Information for Scotia-Glenville staff members
Workplace notices
Revisions to Section 201 of the New York State Labor Law require all mandatory labor postings be made available to employees electronically. Click here to review the list of postings.
Insurance companies will cover the cost of at-home COVID tests (1-18-2022):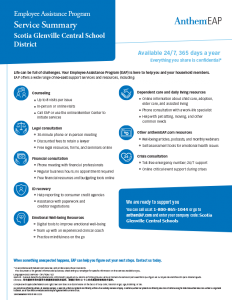 EAP provides, at no cost to employees, up to eight (8) counseling sessions per issue per year, legal/financial consultation, Identity Theft recovery, child/elder care resources and work/life services referrals and emotional well-being services. Resources give you the support you need to develop resilience, reduce stress, and practice mindfulness. Read more on this page.
Go to www.anthemeap.com
Click on the Login button
When asked for the company name enter: Scotia Glenville Central Schools

All clinical needs, management consultations, requests and employee/household member calls should be directed to the toll-free number:

(800) 865-1044

.
A comprehensive trainings site for teachers to use while transitioning to online learning.
Paid Sick Leave and Expanded Family and Medical Leave
Beginning in January 2022, the NYS DOH made self-certification forms available for employees to use to evidence the order of isolation or quarantine required under the law. Employees may complete the appropriate affirmation to satisfy the law's requirement that they have an order of isolation or quarantine, as applicable, from a duly authorized government authority.
The NYS DOL guidance also takes the position that employees may take up to three periods of leave under the law since the onset. However, for the second and third periods, eligibility must be evidenced by a positive COVID 19 test, and the employee must submit documentation from "a licensed medical provider or testing facility" confirming the positive result, unless the employer performed the test. As a result, under the current guidance, a positive at-home test would not be sufficient to establish eligibility for a second or third period of COVID-19 leave under the law.
Starting September 1, 2022, Scotia-Glenville Central School District will be requiring a positive PCR test from all employees requesting to utilize the New York State Covid-19 Sick Leave Pay.
The links below will bring you to the affirmation of isolation form you may use in conjunction with your results.
Isolation: click here 
Quarantine: click here
Message to members of the NYSLRS regarding retirement
Department of Labor notification for all employees who have been laid off, discharged or quit.
Use this Department of labor form to file.
Staff Email
Outlook O365 Email
Substitute Coordination
The substitute coordination service is provided through Capital Region BOCES.
Power Teacher
Access the Power Teacher sign-in page.
PowerSchool
Access the PowerSchool sign-in page.
HazCom Training
All Scotia-Glenville faculty, staff and substitutes now have the ability to complete their annual HazCom training requirement electronically.
Here are SafeSchool directions for completing the HazCom training.
Additional training will be provided for departments including, but not limited to, Facilities and Operations, School Nurses, Art, Science, Technology, Transportation, those identified as 'at risk' by the district's Exposure Control Plan, etc.
Sexual Harassment Training
The safety of our staff and students is of utmost importance. That's why we're pleased to offer the SafeSchools Online Training System  to our employees. We're confident you'll find these courses to be informative and helpful towards maintaining a safe learning environment.
S.A.V.E. Annual Training
This training consists of DASA, Dignity for all Students Act and Safe Schools Against Violence in Education. Here is SafeSchool information for this training.
Acture Solutions – Scotia-Glenville Help Desk
STAFF: To request technical assistance, do one of the following:
1.     Log into the district's helpdesk website (http://helpdesk.sgcsd.net ).  Use your Scotia-Glenville email username without the @sgcsd.net as the user name. For example, jsmith (without the @sgcsd.net), use your S-G email password as the password. Click on "Create a New Incident" under "Can We Help You" and complete the form.
2.     Call by telephone: 518-631-3530
3.     Send an email to helpdesk@sgcsd.net
In some cases, a staff member will remotely log into your computer to fix the problem. Staff may wish to call you back with information or questions. At times, a technician may visit your room to directly handle the request.
Other Resources