Information for Scotia-Glenville staff members
Memo regarding paid COVID-19 sick leave
January 6, 2021
The Federal paid leave provisions for qualifying COVID-19 related absences have recently expired.  More specifically, the Emergency Paid Sick Leave Act (EPSLA) and the Emergency Family and Medical Leave Expansion Act (EFMLEA), both of which are under the umbrella of the Families First Coronavirus Response Act (FFCRA), expired as of December 31, 2020 and are no longer available for use by employees.
With the expiration of the FFCRA, I write to inform you of New York State Quarantine leave that remains available to you. District employees continue to be eligible for the New York State Quarantine leave, which provides District employees fourteen (14) calendar days (typically up to ten work days for a full-time employee) of paid leave where the employee is placed under a mandatory or precautionary order of quarantine or isolation issued by the state of New York, the Department of Health, local board of health, or any government entity duly authorized to issue such order due to COVID-19. However, this paid leave is not available to an employee that is able to work remotely, as determined by the Superintendent of Schools.
DOH website:   https://coronavirus.health.ny.gov/covid-19-travel-advisory
Updated information about traveling and quarantines, March 10, 2021
A comprehensive trainings site for teachers to use while transitioning to online learning.
Paid Sick Leave and Expanded Family and Medical Leave
Click here to enlarge the document below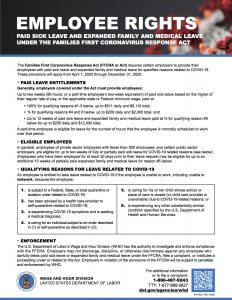 Message to members of the NYSLRS regarding retirement
Department of Labor notification for all employees who have been laid off, discharged or quit.
Use this Department of labor form to file.
Staff Email
Outlook O365 Email
Substitute Coordination
The substitute coordination service is provided through Capital Region BOCES.
Power Teacher
Access the Power Teacher sign-in page.
PowerSchool
Access the PowerSchool sign-in page.
2021 COVID-19 Training
Here is the COVID-19 training for the 2021-22 school year.
HazCom Training
All Scotia-Glenville faculty, staff and substitutes now have the ability to complete their annual HazCom training requirement electronically.
Here are directions for completing the HazCom training:
Be sure to read the instructions carefully. Failure to properly follow directions may result in your not receiving credit for completing the training.
Additional training will be provided for departments including, but not limited to, Facilities and Operations, School Nurses, Art, Science, Technology, Transportation, those identified as 'at risk' by the district's Exposure Control Plan, etc.
Sexual Harassment Training
The safety of our staff and students is of utmost importance. That's why we're pleased to offer the SafeSchools Online Training System  to our employees. We're confident you'll find these courses to be informative and helpful towards maintaining a safe learning environment.
Acture Solutions – Scotia-Glenville Help Desk
STAFF: To request technical assistance, do one of the following:
1.     Log into the district's helpdesk website (http://helpdesk.sgcsd.net ).  Use your Scotia-Glenville email username without the @sgcsd.net as the user name. For example, jsmith (without the @sgcsd.net), use your S-G email password as the password. Click on "Create a New Incident" under "Can We Help You" and complete the form.
2.     Call by telephone: 518-631-3530
3.     Send an email to helpdesk@sgcsd.net
In some cases, a staff member will remotely log into your computer to fix the problem. Staff may wish to call you back with information or questions. At times, a technician may visit your room to directly handle the request.
Other Resources