Information for Scotia-Glenville staff members
Those traveling to "hot spots" may not be entitled to paid sick leave
June 25, 2020
As you may know, Governor Cuomo issued an Executive Order that requires individuals who travel to certain COVID-19 "hot spots" after June 25, 2020, to self-quarantine for 14 days upon return to New York. Individuals who fail to comply with this Order face the risk of substantial penalties. The states covered until this order are Alabama, Alaska, Arizona, Arkansas, Florida, Georgia, Idaho, Illinois, Indiana, Iowa, Kansas, Kentucky, Louisiana, Minnesota, Mississippi, Missouri, Montana, Nebraska, Nevada, North Carolina, North Dakota, Oklahoma, Puerto Rico, Rhode Island, South Carolina, South Dakota, Tennessee, Texas, Utah, Virginia, Wisconsin and Wyoming.
Governor Cuomo also stated in a subsequent Executive Order that employees who voluntarily begin travel after June 25, 2020, to locations that meet New York's "hot spot" criteria, are not entitled to paid sick leave benefits or other paid benefits under New York's COVID-19 leave law.
DOH website:   https://coronavirus.health.ny.gov/covid-19-travel-advisory

A comprehensive trainings site for teachers to use while transitioning to online learning.
Paid Sick Leave and Expanded Family and Medical Leave
Click here to enlarge the document below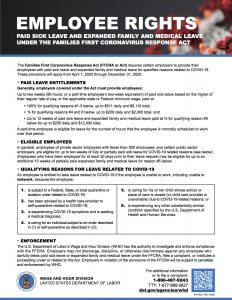 Message to members of the NYSLRS regarding retirement
Department of Labor notification for all employees who have been laid off, discharged or quit.
Use this Department of labor form to file.
Staff Email
New Outlook O365 Email – transitioning in August and September 2020
Previous version of Outlook
Substitute Coordination
The substitute coordination service is provided through Capital Region BOCES.
Power Teacher
Access the Power Teacher sign-in page.
PowerSchool
Access the PowerSchool sign-in page.
HazCom Training
All Scotia-Glenville faculty, staff and substitutes now have the ability to complete their annual HazCom training requirement electronically.
Here are directions for completing the HazCom training:
Be sure to read the instructions carefully. Failure to properly follow directions may result in your not receiving credit for completing the training.
Additional training will be provided for departments including, but not limited to, Facilities and Operations, School Nurses, Art, Science, Technology, Transportation, those identified as 'at risk' by the district's Exposure Control Plan, etc.
Sexual Harassment Training
The safety of our staff and students is of utmost importance. That's why we're pleased to offer the SafeSchools Online Training System  to our employees. We're confident you'll find these courses to be informative and helpful towards maintaining a safe learning environment.
AimswebPLUS
The district number for this training is 12022.
nfrastructure SERVICE NOW
STAFF: To request technical assistance, do one of the following:
Log into the nfrastructure website. Use your Scotia-Glenville email username without the @sgcsd.net as the user name. For example, jsmith (without the @sgcsd.net), use your S-G email password as the password. Click on "Create a New Incident" under "Can We Help You" and complete the form.
Call by telephone: 518-665-8723
Send an email to ScotiaGlenvilleSchools@nfrastructure.com
In some cases, a staff member will remotely log into your computer to fix the problem. Staff may wish to call you back with information or questions. At times, a technician may visit your room to directly handle the request.
StaffTrac
StaffTrac is a complete system for managing teacher and principal evaluations that will ensure a continuous professional learning process.
To use StaffTrac:
In the UserID box, enter your Scotia-Glenville email address.
If you know your password, enter it in the Password box. If you do not know your password or forgot it, click on the "Forgot your password?" link. The system will send your password to the email address you entered in the UserID box.
Other Resources