Information for Scotia-Glenville staff members
A comprehensive trainings site for teachers to use while transitioning to online learning.
Paid Sick Leave and Expanded Family and Medical Leave
Click here to enlarge the document below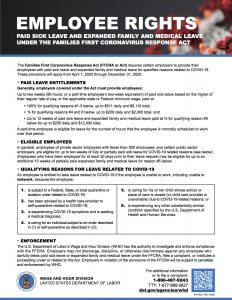 Check out this document, which details expanded employee rights under the Families First Coronavirus Response Act regarding paid leave.
SPECIAL NOTE:
March 17, 2020
To:       All Staff
From: Andrew Giaquinto, School Business Manager
Re:  Payroll Processing During School Closure
Below is a summary of how payroll will be processed during the emergency school closure:
All teachers, teaching assistants, administrators, secretaries, buildings & grounds staff, bus drivers and managerial confidential employees will be paid their regular contractual pay during this time.
Teacher Aides, Transportation Aides, and Monitors will be paid for their board appointed hours. Building secretaries will be asked to fill out time sheets for these employees based upon the hours the employee was appointed for when they received board approval (a list will be provided). Administrators will be asked to sign off on the timesheets before sending over to payroll for processing. Buildings & Grounds employees with any overtime time sheets will continue to submit as they normally would.
Substitutes will not be paid during this time, however, any timesheets submitted for the pay cycle ending on March 13 will still be processed as long as they have been turned in to the Business Office by today.
As of right now, we are able to process both direct deposit and the few live checks we issue. All live checks will be mailed until further notice. If for any reason the District Office is closed and staff are not allowed to come in, only the direct deposit checks will be able to be processed.
Staff Email
Log into staff email for Scotia-Glenville employees.
View comprehensive directions about updating and connecting your email account on district computers and connecting your personal devices (personal computers, cell phones, iPads, etc.) so that you will be able to receive emails on these devices.
Substitute Coordination
The substitute coordination service is provided through Capital Region BOCES.
Power Teacher
Access the Power Teacher sign-in page.
PowerSchool
Access the PowerSchool sign-in page.
HazCom Training
All Scotia-Glenville faculty, staff and substitutes now have the ability to complete their annual HazCom training requirement electronically.
Here are directions for completing the HazCom training:
Be sure to read the instructions carefully. Failure to properly follow directions may result in your not receiving credit for completing the training.
Additional training will be provided for departments including, but not limited to, Facilities and Operations, School Nurses, Art, Science, Technology, Transportation, those identified as 'at risk' by the district's Exposure Control Plan, etc.
Sexual Harassment Training
The safety of our staff and students is of utmost importance. That's why we're pleased to offer the SafeSchools Online Training System  to our employees. We're confident you'll find these courses to be informative and helpful towards maintaining a safe learning environment.
AimswebPLUS
The district number for this training is 12022.
nfrastructure SERVICE NOW
STAFF: To request technical assistance, do one of the following:
Log into the nfrastructure website. Use your Scotia-Glenville email username without the @sgcsd.net as the user name. For example, jsmith (without the @sgcsd.net), use your S-G email password as the password. Click on "Create a New Incident" under "Can We Help You" and complete the form.
Call by telephone: 518-665-8723
Send an email to ScotiaGlenvilleSchools@nfrastructure.com
In some cases, a staff member will remotely log into your computer to fix the problem. Staff may wish to call you back with information or questions. At times, a technician may visit your room to directly handle the request.
StaffTrac
StaffTrac is a complete system for managing teacher and principal evaluations that will ensure a continuous professional learning process.
To use StaffTrac:
In the UserID box, enter your Scotia-Glenville email address.
If you know your password, enter it in the Password box. If you do not know your password or forgot it, click on the "Forgot your password?" link. The system will send your password to the email address you entered in the UserID box.
Other Resources