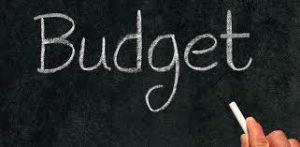 On the third Tuesday of each May, residents from across New York State go to the polls to vote on the following year's school district budget and to elect members of the Board of Education.
2021-22 budget
May 18, 2021
Thank you, Scotia-Glenville!
The $59.1 million 2021-22 S-G school budget

 

was approved today by a vote of 741 to 203, a margin of 78.5% to 21.5%.
The $493,000 bus purchase proposal was approved by a vote of 740-204, a margin of 78.4 to 21.6%
The $12.8 million capital project

 

was approved by a vote of 739 to 207, a 78.2% to 21.8% margin.
Board member David Massaro was re-elected with 783 votes and board member Hal Talbot was re-elected with 772 votes.
---
Aid boost reduces proposed tax increase to 0.13%; less than $5 per year for typical homeowner
Previous budget proposal would have increased taxes by 2.02% and required a 60% voter approval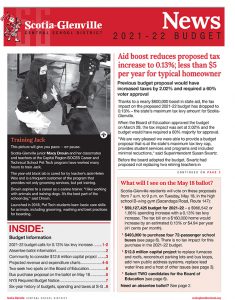 Thanks to a nearly $600,000 boost in state aid, the tax impact on the proposed 2021-22 budget has dropped to 0.13% – the state's maximum tax levy amount for Scotia-Glenville.
When the Board of Education approved the budget on March 29, the tax impact was set at 2.02% and the budget would have required a 60% majority for approval.
"We are very pleased we were able to provide a budget proposal that is at the state's maximum tax levy cap, provides student services and programs and included minimal reductions," said Superintendent Susan Swartz.
Before the board adopted the budget, Swartz had proposed not replacing two retiring teachers in kindergarten and grade 2 at Glendaal because of lower enrollment. Those reductions remain in the budget. All other parts of the academic program were left in place.
The community will consider the proposed 2021-22 budget during voting from 7 a.m. to 9 p.m. on Tuesday, May 18 in the B-wing gym at the high school.
At the 0.13% tax levy increase level, a home with a typical assessment of $160,000 would see an approximate annual tax increase of $4.94, or 41 cents per month.
The school district can expect to receive an additional $589,234 in state aid in the 2021-22 school year, including a $391,866 increase in state Foundation Aid.
The state Legislature has pledged to increase Foundation Aid to the level called for in the state formula over the next three years. The formula has not been fully funded by the state since the 2007-08 school year.
S-G was already receiving 95% of the full formula reimbursement, which is why the school district's increase in Foundation Aid is less than at other area school districts for next year.
The $2.5 million in federal stimulus funding was not factored into this school budget. That money must be spent by June 2024. The federal government has not yet released guidance on how that money must be spent. However, it is designed to help school districts bridge budget shortfalls over the next few years.
Here is the budget newsletter with more details about the budget.
The community decides on May 18
On May 18 (unless the date is changed as happened last year), the S-G community will consider these proposals through in-person or absentee balloting
2021-22 school budget of $59,127,425;
$493,000 bus purchase proposal for four, 72-passenger buses;
$12.8 million capital project for roofs, furnaces, lead water line remediation and public address systems at all six schools; and
Select two Board of Education members. Current Board of Education members David Massaro and Hal Talbot are unopposed.
Who can vote?
Community members who are U.S. citizens may vote in the school elections if they:
Have been a resident for at least 30 days before the May vote;
Are at least 18 years old.
The district uses registration books from the Schenectady County Board of Elections. If you are not registered, you may vote by showing an official proof of residency.
Can I vote by absentee ballot?
Residents who are disabled, hos­pitalized or out of town on the day of the school budget vote may cast absentee ballots. They are available at the Scotia-Glen­ville business office, 900 Preddice Parkway (end of Lark Street), Scotia. (518) 347-3600, ext. 73102
Absentee voters must first complete an application to vote and then com­plete the ballot itself.
What if the budget were defeated?
If the school budget were defeated once, it could be amended and a second vote scheduled. If the budget were defeated twice, the Board of Education must adopt a contingency budget – meaning the tax levy would be the same as the current year's tax levy.
How does the state's STAR program affect my tax bill?
The New York State School Tax Relief Program (STAR), which applies only to primary residences, is paid by the state to the school district and is not administered by Scotia-Glenville.
Basic STAR
The STAR program in 2019-20 would reduce school tax bills in Glenville by an estimated maximum of $620 for Basic STAR recipients (the reduction was $620 in 2018-19). Property owners with incomes below $500,000 are eligible for Basic STAR.
Enhanced STAR
For property owners who receive the Enhanced STAR deduction, the Glenville reduction in 2019-20 was an estimated maximum of $1,199 (the reduction was $1,199 in 2018-19). Enhanced STAR is for property owners over age 65 with incomes of less than $86,300.