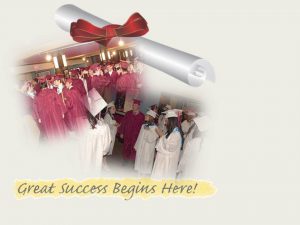 The purpose of this site is to provide you with updated information pertaining to academic requirements, post-secondary planning, standardized testing information, important upcoming dates, information links, and various other resources.
It is important for you to give some thought to your direction and individual goals.  What you want to achieve in the future will, in most cases, determine the courses and activities you choose while in high school.  The selection of courses should be carefully thought out from year to year, giving consideration to your interests, abilities, and future plans.  Your counselor is one person who can help you sort out all possibilities and aid you in making both education and career decisions.  There is extensive information in the guidance office and online to aid you in your decision-making process.
Important Dates from the HS Guidance Department: 2019-20
These programs are for Juniors and Sophomores:
Download these Career and Technical Education and New Visions programs are available to juniors and sophomores and their parents.
These parent/student programs are scheduled on these dates:
January 9 – New Visions – Health
January  23 – CTE Albany programs in Auto Body Refinishing, Auto Trades Technology, Building Trades, Cosmetology, Criminal Justice, Culinary Arts & Hospitality, Diesel Tech, Electrical Trades, Global Fashion Studies, HVAC/R, Internet Applications Design, Nurse Assistant / CNA, Welding & Metal Fabrication, Auto Services/Small Engines, Carpentry Services, Food Services, Pet Tech and Retail & Office Services
January 24 – CAT Mohonasen programs in Equipment/Engineering Technology, Game Design/Implementation, Manufacturing & Machining Technology, Sterile Processing Technician, Theatre/Film Production Technology and Welding & Metal Fabrication
January 28– Saratoga programs in Environmental Conservation, Horticulture, Horse Care
and Heavy Equipment
Parents and Guardians of Sophomores and Juniors:
College Planning Night and AP Information Night – Thursday, February 6 at 7:00 PM – HS Auditorium
Spring College Fair @ SUNY HVCC – Tuesday, March 17, 2020 – 9:00-11:30 AM and 6:30-8:00 PMNo S-G transportation provided180+ Colleges/Universities   –    Financial Institutions   –    Military Representatives
Attention Juniors:  SAT Exam at S-G is Saturday, May 2, 2020 ~ Registration deadline is Friday, April 3www.sat.collegeboard.org/registerTo register you will need:
a credit card for payment
S-G School Code 335150 and S-G Test Center Code 33-852
to upload your photo for identification (see photo guidelines on-line)
to print your registration ticket
On test day (Saturday, May 2) you must bring:
your Registration Ticket (with photo printed on it)
another legal photo identification (current Driver's License, US Passport, or S-G School ID)
#2 Pencils (no MECHANICAL PENCILS)
 calculatorStudents may also take the June SAT; however, S-G HS is not a test center on that date.
Help when you need it the most
Guidance also extends its services to provide supportive counseling during stressful and/or challenging times. Grief Support for Teens and Their Families.  We hope that the information and links will be of help to you and your child.  Please feel welcome to seek us out should you have additional questions or concerns – 518-347-3600 ext. 63100.