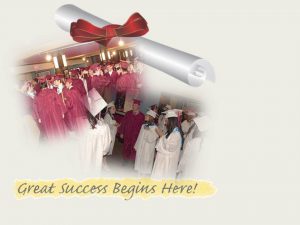 The purpose of this site is to provide you with updated information pertaining to academic requirements, post-secondary planning, standardized testing information, important upcoming dates, information links, and various other resources.
It is important for you to give some thought to your direction and individual goals.  What you want to achieve in the future will, in most cases, determine the courses and activities you choose while in high school.  The selection of courses should be carefully thought out from year to year, giving consideration to your interests, abilities, and future plans.  Your counselor is one person who can help you sort out all possibilities and aid you in making both education and career decisions.  There is extensive information in the guidance office and online to aid you in your decision-making process.
Important Dates from the HS Guidance Department: 2019-20
These programs are for Juniors and Sophomores:
Download these Career and Technical Education and New Visions programs are available to juniors and sophomores and their parents.
These parent/student programs are scheduled on these dates:
CANCELED –

The May 2 SAT exam (offered at SGHS) has officially been cancelled nationwide. Refunds will be distributed to those that registered (as of Thursday there were 25+ at SG) and plans to reschedule have not been decided by College Board. The June exam has yet to be decided. More than likely students will be left with the limited August seats and October of next school year.

www.sat.collegeboard.org/register.
Here's the information from the College Board:
Dear Test Center or SSD Coordinator,
In response to the rapidly evolving situation around the coronavirus (COVID-19) and guidance from public health organizations, the College Board is canceling the May 2, 2020, SAT® administration. Makeup exams for the March 14 administration (scheduled March 28) are also canceled. We will provide refunds to all students who are registered for May, whose March test centers were closed, or who do not receive March scores due to an irregularity.
Our top priority is the health and safety of students and educators.
We will provide future additional SAT testing opportunities for students as soon as feasible in place of canceled administrations. We have not yet canceled the June 6, 2020, SAT administration and will continue to assess its status. We are working with local partners and will soon share information about weekday school-based administrations this spring of the SAT, PSAT™ 10, and PSAT™ 8/9. If your school is available for testing, March SSD students are still able to test through the four-day window (Saturday, March 14-Tuesday, March 17). If your student is testing over two days, testing may end on Wednesday.
Due to the administration cancellations this spring, we expect there will be a high demand for the June and August SAT. If you have not yet confirmed to Test Administration Services
(TAS) that you are available to be a June or August test center, and you would like to open to provide testing opportunities for students, please let TAS know as soon as possible. If you are an SSD coordinator administering school-based testing, please update your SSD school testing calendar (available from SSD Online) to reflect any changes in June availability.
We will be flexible, thoughtful, and collaborative in exploring ways to continue to support student learning and provide opportunities to test during this challenging time. Thank you for your partnership.
Sincerely,
Test Administration Services
Help when you need it the most
Guidance also extends its services to provide supportive counseling during stressful and/or challenging times. Grief Support for Teens and Their Families.  We hope that the information and links will be of help to you and your child.  Please feel welcome to seek us out should you have additional questions or concerns – 518-347-3600 ext. 63100.