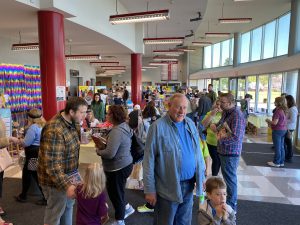 Scotia-Glenville's first districtwide book fair sold $17,323 in books in just 2 days. The event encouraged the joy of reading. "Our public librarian even ran out of the 200 library card applications – and we just photocopied more," said S-G's Head Library Media Specialist, Liz Fawcett.
"Your big heart and passion for literacy in our school community coupled with giving up your own free time on a weekend to bring a fantastic literacy event to our SG families was truly generous and resulted in such a reward," Ms. Fawcett said as she addressed all S-G media specialists and district administration.
The return to the district's collective school libraries is estimated at approximately $4400. Thanks for all you do to create opportunities for our young readers centered on literacy not only during the book fair, but all year long.