NEW INTERVAL HEALTH FORMS
Please be aware there is a new version of the health history form that must be filled out.
You can access the form through this link.
The form can also be picked up in the main office or nurse's office.
Submit All Forms before the start of your season
interval health form
current physical
Athletes of the Month
These students have exceled at their chosen sports:
Catherine Loveland
Varsity Girls Tennis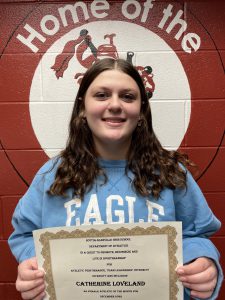 The female athlete of the month is freshman Catherine Loveland.
Catherine's level-headedness and communication skills have helped her perform at her best. Her coach says she puts in the work and always makes time to talk with teammates and coaches. 
She is great in the classroom as well with a 94 average.
Alex Bellotti
JV Boys Basketball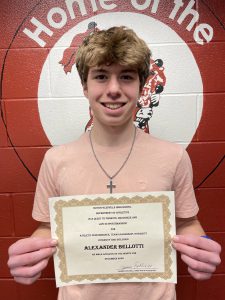 The male athlete of the month is freshman Alex Bellotti.
Alex is averaging 18 points a game and 3 steals. His coach credits his success in games to his hard work during practice.  
He is elite in the classroom as well where he has a 97 average.
Athletic Hall of Fame
2022 Inductees
2022-23 Scotia-Glenville Athletic Theme
All student-athletes and coaches should be

ALL IN

 to each of the following:
A
​ thlete: working hard to do their best and being a quality teammate.
​L 
​eadership: through service.
L
​evel Headed: holding back their emotions and being reasonable.
IN
​tegrity: doing the right thing even if no one is watching.
IN
​ tensity: giving 100% effort in everyone and situation.
What is the Scotia-Glenville Wellness Committee?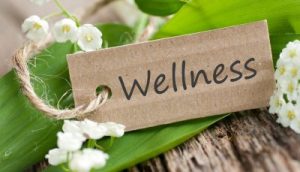 School wellness committees assess the school health environment, programs and policies in place and identify ways to strengthen these to improve the health of students and staff. Committees develop and implement action plans based on what they learn about the school. The committees provide advice and expertise to administrators in the building and at the district level regarding health-related policies and programs.
Check out Scotia-Glenville's Wellness page.
Parents are reminded that MS and younger children must be supervised at evening sporting events
Athletic events and extra curricular activities are a very important aspect of school life. They are part of the fabric of what makes Scotia-Glenville Central Schools the center of the community. Spectators who attend these events come to support our students and to enjoy the community atmosphere.
In the past few years we have seen more middle and elementary school pupils left unsupervised by their parents at high school athletic games.
As a result of this, more incidents of misconduct, rudeness, and other inappropriate behaviors are being reported to supervisors at these contests. This has particularly become a problem at football games and basketball games.
Read more of the procedures for evening athletic events here.
Required forms to play athletics
All Athletes need to submit their required health interval forms before the beginning of the sport season in order to play during the season.
The required forms can be found for download on the Forms and Publications page.
Concussion information
Concussion Management Information
Children of any age can get involved with athletics
Scotia-Glenville has many community-based sports programs
Physical Education
For information about the high school physical education program, check here and here are the policies covering the physical education program.
Athletic agreement
All students and their parents sign the Athletic Code of Conduct before participating in S-G sports. It describes the athletic program and penalties for an athlete's violation of the athletic code of conduct.
Academic standards
Read the academic standards and probation procedures that guide all co-curricular activities.
Substance Abuse policy and procedures
Read the substance abuse policies and procedures.

The High School Code of Conduct and Middle School Code of Conduct also guide penalties in these cases.