S-G Unified basketball team
Coached by Lou Powell, the Scotia-Glenville Unified basketball team played an exciting game against Amsterdam, that went into five periods.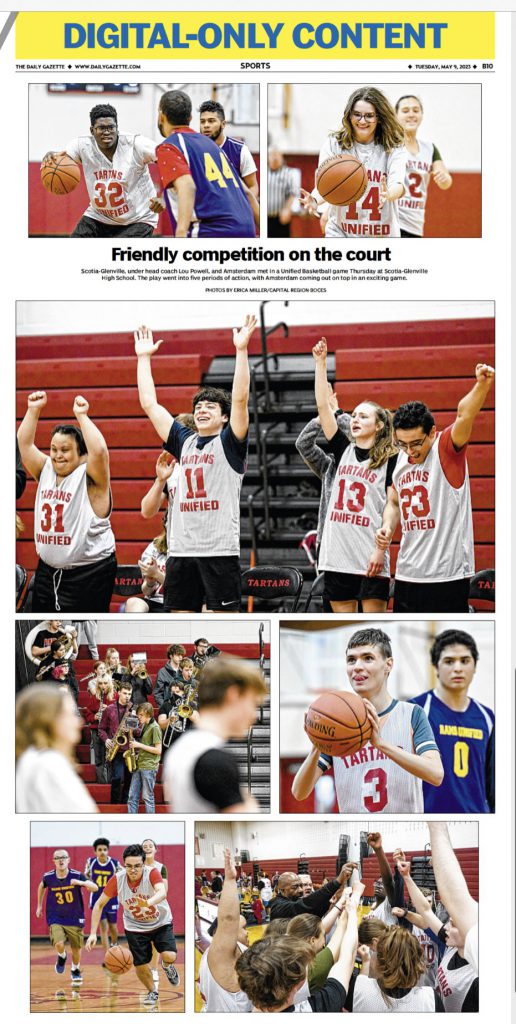 PINKOUT for Breast Cancer
The Scotia-Glenville Athletic Department helped create awareness for breast cancer on May 3 by encouraging all to wear pink at the JV and varsity baseball, girls lacrosse, and varsity softball games. This schoolwide initiative was led by students in support of PINKOUT for Breast Cancer. The softball team raffled off prizes and raised more than $700 to donate to the not-for-profit, To Life! The local organization provides support and resources for cancer.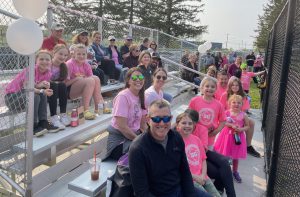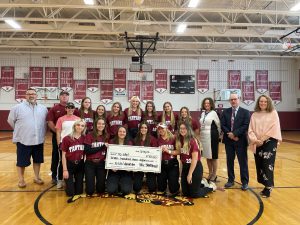 Scotia-Glenville congratulates student-athletes competing in D2 and D3 sports
SGHS recognizes the following students with talent and motivation to continue their athletic careers at the collegiate level. We wish you the best!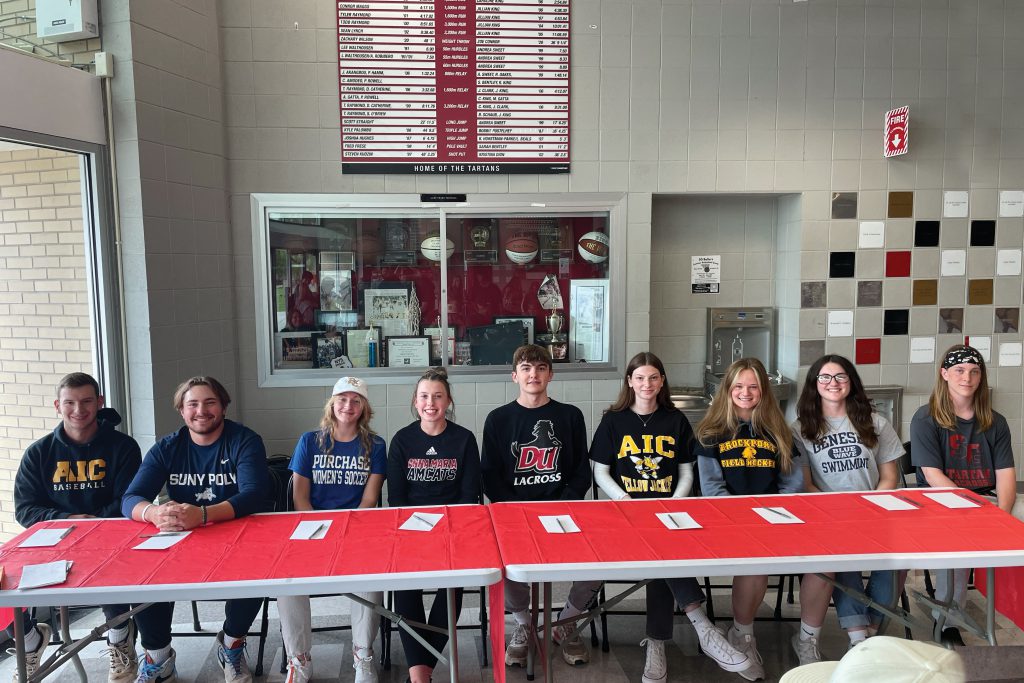 Athletes of the Month
These students have excelled at their chosen sports
Karaline McCarthy
Varsity Girls Lacrosse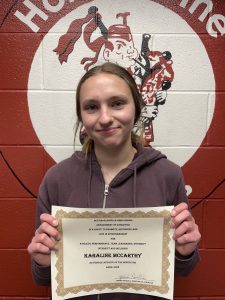 The female athlete of the month is junior Karaline McCarthy.
Karaline McCarthy scored over 100 career goals. 
Quite leader. Coachable. Amazing physical education student.
Member of the Unified Basketball Team where she demonstrates inclusion. 
Elite in the classroom with a 97 overall average.
Aidan Streeter
Varsity Baseball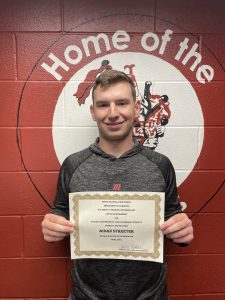 The male athlete of the month is senior Aidan Streeter.
Captain of the team.
Pitcher/Shortstop.  .353 batting average.  3-0 record as a pitcher.
Leader in physical education classes. Dedicated. Reliable and responsible. 
Awesome in the classroom with a 96 average.
Athletic Hall of Fame nominations are open for 2023
The committee will be accepting recommendations through Friday, June 2
Fans can fill out this form to put forward a candidate for this honor. The anticipated induction ceremony will take place in the fall.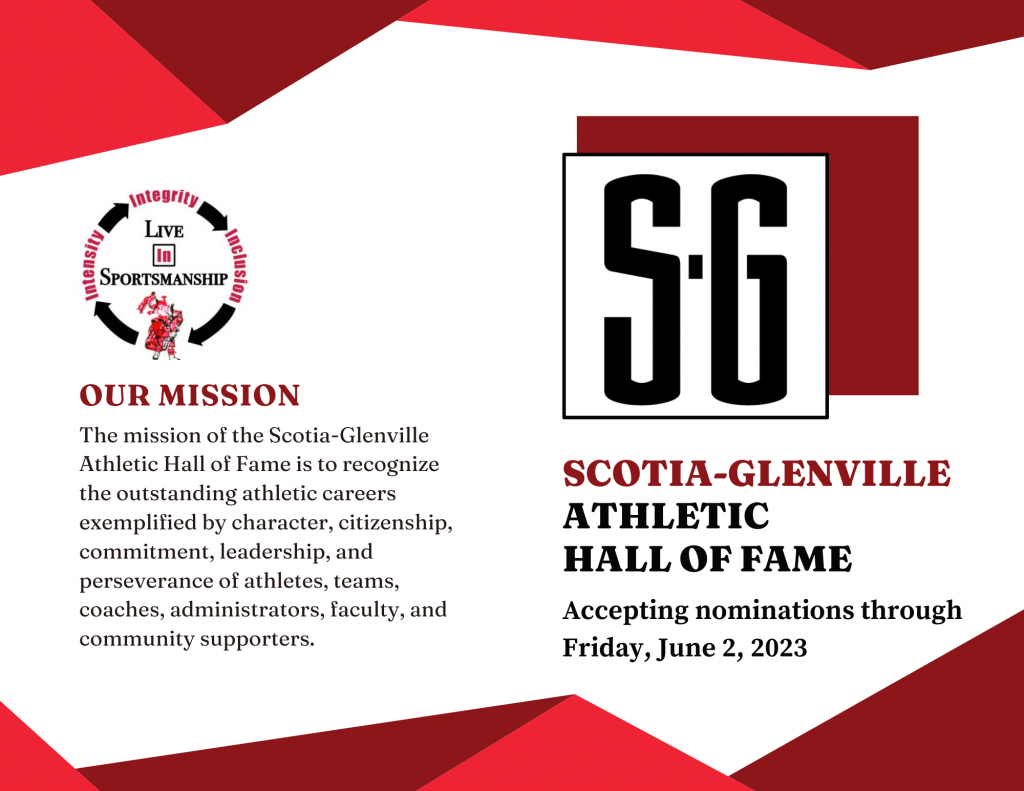 2022 Athletic Hall of Fame Inductees
Click to read about the accolades of our HOF 
New online registration to play sports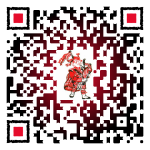 The S-G Middle School/High School Athletic Department is now offering the convenience of free online registration. FamilyID is a secure registration platform that provides you with an easy, user-friendly way to register for our sports programs, and helps us to be more efficient. When you register through FamilyID, the system keeps track of your information in your FamilyID profile. You enter your information only once for each family member for multiple uses and multiple programs.
You can use the QR code to get started, or click this link for a step by step guide to register online to play a spring sport.
2022-23 Scotia-Glenville Athletic Theme
All student-athletes and coaches should be

ALL IN

 to each of the following:
A
​ thlete: working hard to do their best and being a quality teammate.
​L 
​eadership: through service.
L
​evel Headed: holding back their emotions and being reasonable.
IN
​tegrity: doing the right thing even if no one is watching.
IN
​ tensity: giving 100% effort in everyone and situation.
What is the Scotia-Glenville Wellness Committee?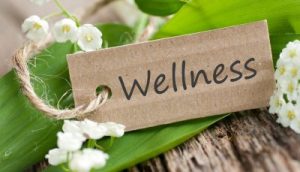 School wellness committees assess the school health environment, programs and policies in place and identify ways to strengthen these to improve the health of students and staff. Committees develop and implement action plans based on what they learn about the school. The committees provide advice and expertise to administrators in the building and at the district level regarding health-related policies and programs.
Check out Scotia-Glenville's Wellness page.
Parents are reminded that MS and younger children must be supervised at evening sporting events
Athletic events and extra curricular activities are a very important aspect of school life. They are part of the fabric of what makes Scotia-Glenville Central Schools the center of the community. Spectators who attend these events come to support our students and to enjoy the community atmosphere.
In the past few years we have seen more middle and elementary school pupils left unsupervised by their parents at high school athletic games.
As a result of this, more incidents of misconduct, rudeness, and other inappropriate behaviors are being reported to supervisors at these contests. This has particularly become a problem at football games and basketball games.
Read more of the procedures for evening athletic events here.
Concussion information
Concussion Management Information
Children of any age can get involved with athletics
The Scotia-Glenville community is blessed with many athletic opportunities for boys and girls. Some community athletic groups include: Little League Baseball, Softball League, Babe Ruth Baseball, Junior Tartans Youth Football and Cheerleading, Tartan Youth LaCrosse, Tartan Basketball Club, Fifty Football Club, Scotia-Glenville Field Hockey Club and Burnt Hills Rowing.
Click here, to view details of our community-based sports programs.
Physical Education
For information about the high school physical education program, check here and here are the policies covering the physical education program.
Academic standards
Read the academic standards and probation procedures that guide all co-curricular activities.
Substance Abuse policy and procedures
Read the substance abuse policies and procedures.

The High School Code of Conduct and Middle School Code of Conduct also guide penalties in these cases.