Two specialists in respiratory issues recently shared their knowledge with students in the New Visions: Health Careers program.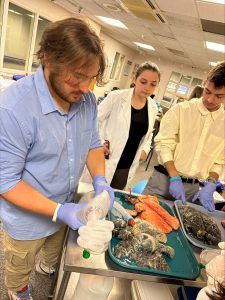 S-G senior Zach Place watched as the registered nurses from Ellis Medicine used pig lungs to show the impacts of smoking, asthma, COPD and other respiratory issues. Then Zach applied what he just learned, using a bag valve to try to inflate a lung himself. 
The New Visions: Health Careers program is a one-year opportunity that turns area hospitals into classrooms for highly motivated, academically successful high school seniors. Students learn through traditional methods (lecture, reading, research, writing and focused study), group discussions, internships and rotations.

Students also take part in approximately 30 rotations in the hospital in departments ranging from surgery to outpatient care and even facility operations. In the past, students have witnessed and taken part in everything from C-sections and hysterectomies to stroke patient care and emergency room operations.