SG football fans and alumni have a lot to look forward to this season. As the football program celebrates its 100-year anniversary, they are taking the time to recognize some of their greatest players and most memorable moments during halftime at their home games. 
This Friday, Sept. 15, the organization is extending an invitation to Scotia alumni from 1975 to 2023 to participate in the halftime recognition ceremony at Hitchcock Field. Former players, cheerleaders, and coaches are all encouraged to fill out this Google Form to let organizers know they'll be attending. 
Last week's game was impacted by some unpredictable weather, but the league has come up with a plan to combine the last two eras for this week's game against Hudson Falls. The game will start at its scheduled time, 7 p.m. and alumni are encouraged to arrive at the start of the game and check in at the table on the home side near the bleachers.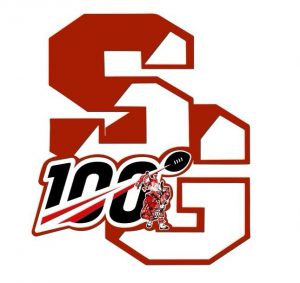 Fans have also been asking about commemorative memorabilia to celebrate the team's 100-year anniversary. Those interested can click this link to explore the apparel available. 
Thank you to all the fans and alumni who have been a part of Scotia football's incredible milestone celebration. Be sure to check out SG Tartans Football on YouTube, Instagram, and Facebook for updates and a mix of this season's activities and a look back at 100 years of football highlights. Let's make this season one to remember!