Congratulations to swimmer Juliet Percenti and golfer Dante Bianchi for being selected as the top performing Tartan athletes for the month of September. 
Female Athlete of the Month
Juliet Percenti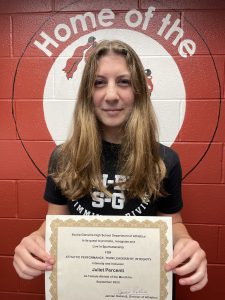 Juliet Percenti is a sophomore on the varsity swim team.
Juliet has been dynamite in the pool this year where she is presently ranked 2nd in the state for the 50m freestyle with a time of 24.1 seconds.
All three of the relays that Juliet races in are currently ranked #1 in the state.  She exemplifies the 1 Tartan Way by being a team player and doing whatever is asked of her. 
Juliet is a workhorse in the classroom as well, where she has a 97 average.
Male Athlete of the Month
Dante Bianchi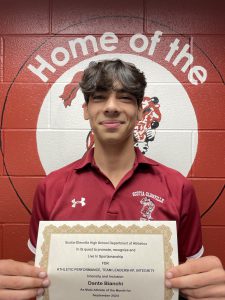 Dante Bianchi is a senior on the varsity golf team.  
For the past three years, Dante has been a sectionals qualifier. This year is no different, for every round he played, his score qualified him to attend sectionals. 
Dante shows his Tartan Teamwork philosophy at practice when he helps guide and improve younger players. 
Dante works on his academic skills to achieve an above 90 average.