Scotia-Glenville School District honored four alumni into the Athletic Hall of Fame.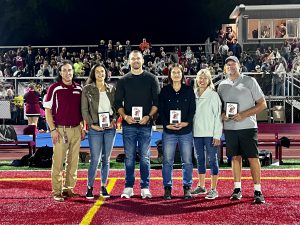 The following 2023 hall of famers were selected by the SG Athletic Hall of Fame Committee after an open nomination process: Anna Kulmatiski–Nordic skier, Joe Cremo–basketball player, Michael Mushaw–football and baseball player, and Silvana Giovannone–soccer player. 
During halftime, at Friday's Homecoming football game, the fans that packed the stands were treated to a presentation featuring this year's inductees. Joe Cremo's parents, Mike and Mary Cremo, joined the inductees on the field to represent their son who could not make the event due to playing professional basketball in Spain. The following day, on October 8, friends, family, athletic mentors, and the community joined the S-G administration in recognizing our standout SGHS alumni athletes at an induction ceremony.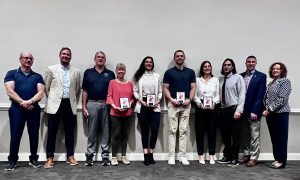 "The accomplishments of these wonderful Scotia-Glenville alumni after graduation are as amazing as what they did while they were here. It is a testament of the school community on a whole. It was a great day to be a Tartan!" -Jamian Rockhill, SG Athletics Director
The mission of the Scotia-Glenville Athletic Hall of Fame is to recognize the outstanding athletic careers exemplified by character, citizenship, commitment, leadership, and perseverance of athletes, teams, coaches, administrators, faculty, and community supporters.
Joe Cremo
Class of 2016 | Basketball
Nominated by: James Giammattei
HIGH SCHOOL:
2013 Section 2 Class A MVP

HOF recipient Joe Cremo accepting the honor by video from Spain. Cremo's mom, Mary and dad, Mike are with Joe's former teammate, Scott Stopera in front of the projector image at the ceremony.

2014 Section 2 Class A MVP
2015 Selection 2 Class A MVP
2014 New York State Champion in Basketball & the Player of Year
2015 New York State Champion in Basketball & the Player of Year
All-time scoring leader at Scotia over 2000 points
4-year record 96-6
4-time Section 2 Champion
ACCOLADES AFTER SG:
3 years at UAlbany — 1000 points
1 year at Villanova
Presently playing professional basketball in Spain
Silvana Giovannone
Class of 2011 | Soccer
Nominated by: Lise Williams
HIGH SCHOOL:
Varsity soccer player 2009-2011 (3 years) Captain & MVP senior year

SGHS Principal Peter Bednarek with HOF recipient Silvana Giovannone

Scored 35 goals in one season
65 goals and 36 assists in her high school career
Assist Leader all 3 years
2nd in SG girls soccer history for most goals scored in a single season
2-time First Team Foothills Council All-Star
Section 2 Class A All-Star
4th Team All-State Selection
ACCOLADES AFTER SG:
Played 1 year at FMCC
Played 1 year at MVCC- Player of the Week in their conference
Played 2 years at The College of St. Rose — In 2015: 6th in scoring for St. Rose
Anna Kulmatiski
Class of 1996 | Nordic Skiing
Nominated by: Jared Linck
HIGH SCHOOL:
6-time State Championship Qualifier (modified through varsity)

HOF recipient Anna Kulmatiski pictured with SG Nordic Ski Coach Jared Linck (Kulmatiski's HS coach was Dirk Francois )

2-time Girls State Champion
Undefeated in Section 2 racing her junior and senior year
4-time Junior Olympic Qualifier (freshman through senior year)
4 top 10 finishes at Junior Olympics
ACCOLADES AFTER SG:
3-time NCAA championship qualifier for Middlebury College
Competed in FIS WORLD CUP and CONTINENTAL CUP 2001-2002
Represented the U.S.A in the Europa Cups in Slovenia and Italy in 2002 where she ranked as one of the Top Ten American Cross Country Ski Racers
Competed at the Olympic Qualifier Gold Cup Race in 2002
Currently working as a clinician at Riverside Community Care in Massachusetts
Michael Mushaw
Class of 2016 | Football, Baseball
Nominated by: Kevin Warren
HIGH SCHOOL:
All-State Honorable Mention Class A 2015

HOF recipient Michael Mushaw pictured with his HS Coach Kevin Warren

Co-Defensive Player of the Year 2016
Defensive Back 2nd team All Star 2013
SGHS Athlete of the Month October 2015
SGHS Varsity Defensive MVP 2015-2016
SGHS Senior Athletic Award, Football 2013, 2014, 2015 & Baseball 2015, 2016
Tartan of the Year 2016
Gazette All-Area Football team
As a Junior, he was selected as Captain of the Varsity Team in 2014
Several newspaper articles
ACCOLADES AFTER SG:
NEC Champion 2018 & 2019
Athletic Director's Award 2019
Humanitarian Award by the Gridiron Club of Greater Boston 2019
Gift of Life Award, Andy Talley Bone Marrow Foundation 2019
Appearances on ESPN & Fox DC Good Day
Guest appearance in the Movie "The Thursday Night Club"
Gives back to the Tartan Youth Football program
Photos courtesy of Joleen Rockhill