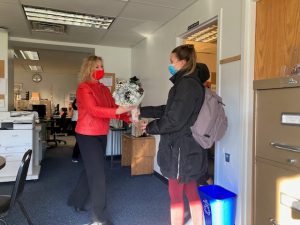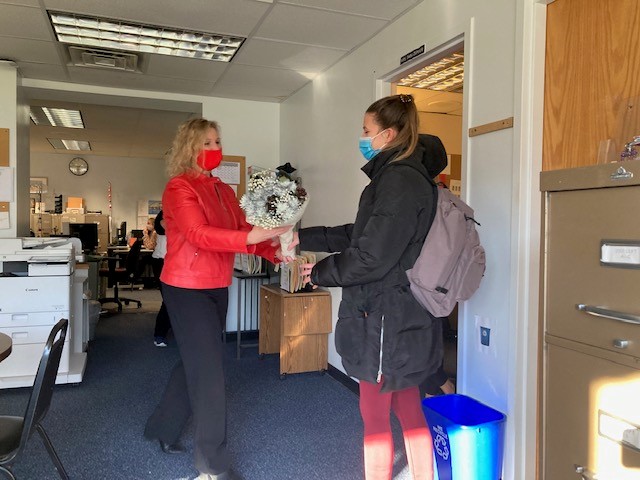 Senior Isabella Getter was surprised this afternoon when a representative of the YWCA of Northeastern NY gave her a bouquet of flowers in the high school guidance office.
Isabella will be the first youth recipient of the YWCA's Women of Achievement Award, a distinction that has been awarded to adults in the community for the past 38 years. She was nominated by counselor Kimberlee Edwards. Isabella's parents, Kristen and Shawn, were there for today's surprise.
She will be formally recognized during a banquet at the Rivers Casino on March 22.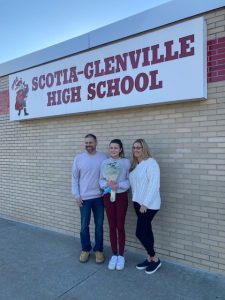 Isabella is enrolled in the Capital Region BOCES' New Visions Medicine and Health program, is active in the GIVE service learning program and is captain of the girls' soccer team. Within GIVE, she has participated in the "Fastbreak" program to help children with disabilities play basketball, she walks dogs and cats at the Montgomery SPCA, packs food backpacks for students in Schenectady and she has volunteered for Special Olympics.
"Whether it is helping those with disabilities, providing sustenance to children, making the lives of abandoned animals less lonely, or assisting her peers, Isabella goes the extra step, makes the extra effort and leads by example," wrote Edwards in her nomination form.