Building effective leaders by elevating mental wellness and emotional awareness
One way to break the stigma around mental health is to talk about it. Another way is to listen. That was a thread woven through the Foothills Council League Student-Athlete Leadership Summit at Fulton Montgomery Community College this week.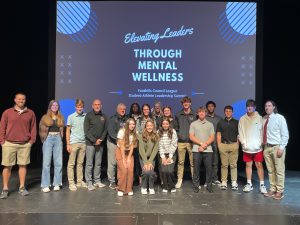 The S-G coaching staff and Varsity Club attended "Elevating Leaders Through Mental Wellness" led by Alex Wulbecker, a licensed mental health provider who specializes in sport and health psychology.
This was an event for the Foothills Council student-athletes, coaches and administrators to learn about steps they can take to help create a culture that destigmatizes mental health. 
"Student-athletes in Scotia-Glenville are experiencing the same pressures as athletes from the Foothills League and abroad. The idea was to bring some varsity students together from around the league and give them some helpful training in the area of mental wellness," said Athletics Director Jamian Rockhill. "The day was a success, as the students talked openly about how the training was received positively and plan to share what they learned with athletes who could not be there," he said.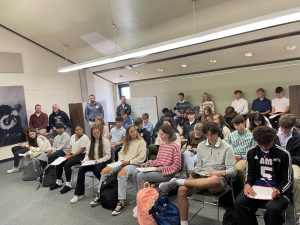 The lectures, breakout sessions, group work, individual work, and videos were centered around developing the power within to help support mental health and positive relationships. This included the understanding that being a genuine listener can help encourage people to say what they need to say–even if it is uncomfortable. And that is how we grow. 
S-G freshman Kiera MacIntosh shared what it was like to express her thoughts to peers at her first Foothills Council student leadership conference, "It felt nerve-racking, but it was a big accomplishment as I felt like I was speaking to an important group of people who were listening."