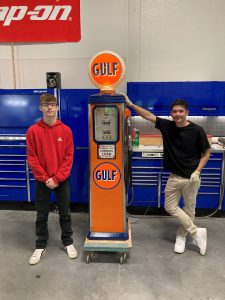 The restoration of an antique 1929 gas pump filled students tanks with new skills and prepared them for a secondary career or hobby.
During the last few months in the Capital Region BOCES Auto Body and Collision Repair program, juniors, Caiden Marks and Anthony Mango, fully restored the antique, repairing rust damage and holes in the metal.
"It was a lot different than working on a car; we had to be more precise, more exact," said Caiden. "It was a lot of fun."
"It required a lot of different skills than auto body repair, but it was a lot of fun to see it come together and see our work," added Anthony.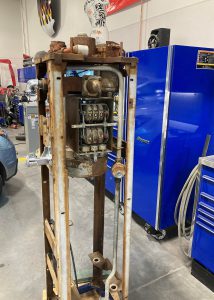 Their teacher, Chris Shader said that the work included sanding, repairing a tear in the metal, using body fill, sandblasting, painting and polishing.
Students in the Electrical Trades program then rewired the pump to allow the globe on top to be illuminated, and students in the Digital Media Design program created new graphics.
While Auto Body students spend the bulk of their time learning how to repair and refinish cars, they also tackle projects that expand their skills and let them improve their abilities, such as painting and pinstriping.
"It allows them to fine-tune their skills—skills that they can use on cars and trucks or other objects," Mr. Shader said.
There are about two-dozen students in the auto body program at the Capital Region BOCES Career & Technical Education Center – Albany Campus. Students in the program learn everything from how to repair, restore and customize cars and trucks to how to mix specific colors and paint vehicles, detail vehicles and calculate finishing costs. Click the link to learn more about the program.