As we prepare to start the school year, we are excited to introduce Rick Arket as our new Assistant Superintendent for Curriculum and Instruction.
"Rick will be invaluable for this pivotal role. He is a resident and proud alumnus of Scotia-Glenville CSD, and a devoted father to two children in our school system," said Superintendent Susan Swartz. "With Rick's expertise and leadership, we are confident that we will continue to provide the highest quality education to all of our students."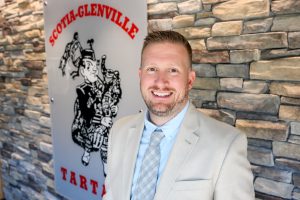 Mr. Arket has held numerous administrative positions, including assistant principal, athletic director, and summer school principal. For the past seven years, he has been the Principal of Draper Middle School in Mohonasen. "My tenure as a building principal in a neighboring district has kept me closely involved with the current student and teacher experience in education, not to mention being a parent in our district. I plan to rely heavily on that experience in my efforts with our administrators and faculty as we work to provide the best student experience possible at Scotia-Glenville," Mr. Arket said.
The district celebrates Mr. Arket's commitment to empower his team to strive for excellence. "I believe my central purpose is to support our administrators, faculty, and staff so that they can help all Scotia-Glenville students meet their potential," Mr. Arket said. "Collaboration is very important to me. I plan to listen more than I speak this school year. One of my goals is to be in our schools and classrooms on a near-daily basis, and to attend after school events often. This will give me the opportunity to hear from teachers, parents, and students and use that critical feedback as we identify our priorities for the district."
Mr. Arket's career in education began as a high school science teacher. He would love to host a science fair for SG elementary students because he says, "It is a great community event and engages kids with a fun and authentic application of the scientific method."
He also has a passion for coaching youth sports in the community. "One of my favorite hobbies is coaching youth sports at Scotia-Glenville. I have been involved with Tartan Youth Basketball and Little League Baseball for a number of years," Mr. Arket said. "Coaching has given me the chance to work with our awesome young athletes and meet some truly great SG families. I can't wait to see some of my current and former players in the hallways and classrooms this year!"