An Earth Day and every day story
Middle School students researched how the pollution of everyday items impacts the environment and made treasures out of trash for an awareness campaign to encourage better habits among fellow students.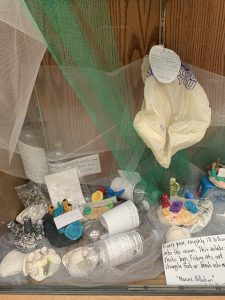 "As part of our ELA curriculum, we read the novel Flush and learn about pollution which is an enduring issue," said ELA teacher Kristy Rosa. "This unit already has cross-curricular connections as students will also learn about enduring issues in social studies and they will learn about environmental issues in science. However, my students informed me last year that they also learned about pollution and the impact on the coral reefs in art class."
Mrs. Rosa reached out to middle school art teacher Margaret Zarnofsky to collaborate on a project about the oceans. Sarah Hunt, who teaches ELA and Social Studies, also helped make connections with the students surrounding this project. The research component to the enterprise was led by Library Media Specialist, Jan Tunison. "The outcome was truly extraordinary," Mrs. Rosa exclaimed.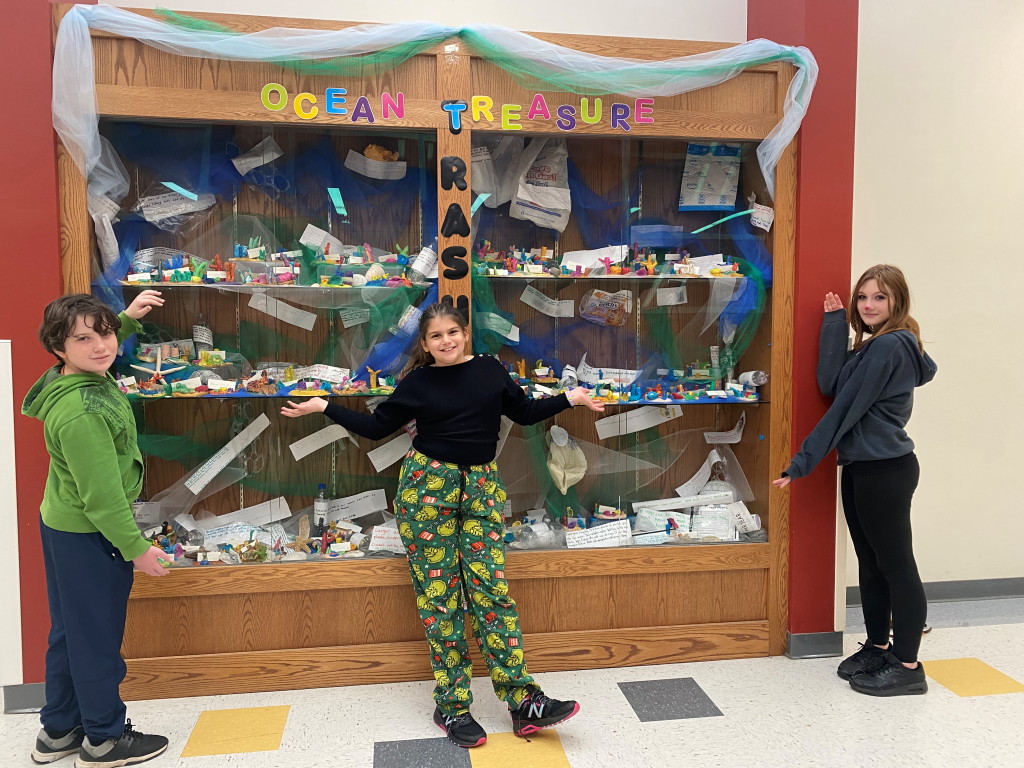 "I liked being able to design it myself."
—Riley Folk, 6th grade student

"The display was abstract and turned out beautiful."
—Sianna Watson, 6th grade student

"I enjoyed working on the display with other students and I put a lot of creativity into it as did the other students."
—Acacia Goyette, 6th grade student
The colorful ocean treasure display quickly showed the environmental impact when students collected trash for their display. "This project was a great opportunity to not only collaborate with different ELA classes but to include art as well." said Ms. Hunt.
In art class, students studied the sculptures of artist and ocean advocate, Courtney Mattison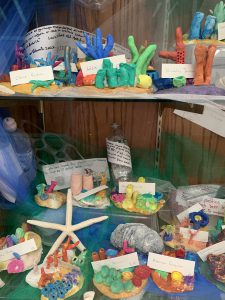 Students discussed how art can send a message and came up with what kind of message they would like to portray through their clay coral reef. "Some students showed despair or a warning of what could happen while others displayed hope for a healthy ocean," said Ms. Zarnofsky. "Having the ability to do a cross-curricular unit excited students to learn more, and resulted in great questions, discussions and amazing art!"
Students brought a mindset of curiosity and advocacy to their pollution research in the library media center. "Their eyes and minds opened to the quality of information and the special features of the middle school databases," said SGMS Library Media Specialist Jan Tunison. "Students will also apply these new skills to future inquiry projects between the library and classes," she said.