Dear Scotia-Glenville Field Hockey (SGFH) Alumni, we hope this message reaches you.  
This year's alumni game promises to be a fun and exciting event, with plenty of opportunities to catch up with old teammates and make new connections. Whether you are a seasoned player or just looking for a little playing time, SGFH alumni of all skill levels are welcome to join us on the field at Maalwyck Park in Glenville on Sunday, October 22 from 10 a.m. to 2 p.m.
"What is always fun to watch is the alumni chasing the younger players on the field as they are coached by current Scotia players, and the game being officiated by them as well," Coach Malone said. The coach's youngest daughter Mady is currently on the SG varsity field hockey team. He also has three other daughters who are SGFH alumni. "Our family has been affiliated with field hockey for almost 15 years," he said.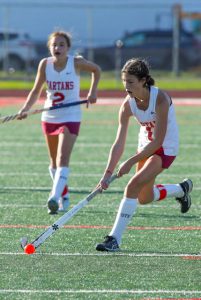 The event celebrates Scotia's Field Hockey program and has always served an additional purpose to raise money for cancer research. This year's game will be a Pink Out event, with half the proceeds donated to a local organization that provides support and resources for breast cancer, To Life!—and the other half will support the SGFH program.  
"The charity To Life! is very special and near to my heart because I am a 10-year breast cancer survivor," said Amanda Reed, one of the event organizers. "I was diagnosed when I was 33-years-old and went through numerous surgeries, tests, and chemotherapy. I try to bring awareness and give back as often as I can." Ms. Reed played field hockey as a teen, but her connection to the SGFH program is through her daughter, one of the varsity captains. 
Megan Beauchamp, SG Class of 1995, played volleyball during her time at SG, so you won't be seeing her out on the field for the big alumni game. She is helping to spread the word and organize to make this event a success, "The excitement, for me as a mom, is seeing my daughter do what she loves. Many of the girls on the varsity team have played together since they were in elementary school, which is so cool. The game itself is fun to watch because it's fast-paced and there is always action on the field," said Ms. Beauchamp. "This alumni game is a great opportunity to reconnect past generations of the SGFH program and a bridge to support the future of this awesome program in Scotia-Glenville," she said.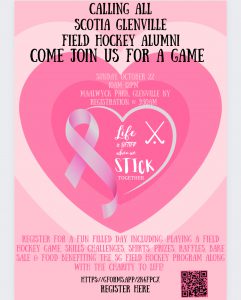 To register for the  alumni game, please use the QR code on the graphic or you can use this link and follow the instructions to secure your spot ahead of time.
The cost to register is $20, and it includes a commemorative long sleeve T-shirt.
There will be fun halftime challenges, bake sales and raffle baskets donated by families and local businesses.