SST FOCUSES ON STUDENT NEEDS TO CREATE LIFE-LONG LEARNERS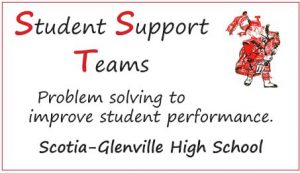 Is your child struggling in school academically, socially, or both?
The SST can help.
The Student Support Team (SST) is a problem-solving team comprised of teachers, parents, school counselors and psychologists, and other staff who work together to provide support to increase student achievement. SST is not a committee, but an individualized team that is different for each student.
Any concerned staff member or parent can complete an SST Request Form via GoogleDocs (link below or click on the image at right) and submit it to the Dean of Students, who will review the request and contact relevant staff members to set up a first meeting.
Parents are encouraged to be a part of their child's Student Support Team and to attend meetings, which are held after school whenever possible. At the first meeting, the team will discuss concerns and develop and action plan to include interventions, timelines, monitoring, and follow-up.
https://docs.google.com/forms/d/e/1FAIpQLSeHCL-99Du6yGtSZjiS52jCADizvytrlc13yvT-1l_zxSnJlA/viewform?usp=sf_link
QUESTIONS?
Any questions about the SST can be sent to Dean of Students Angela Cerrone at acerrone@sgcsd.net or by calling her at 347-3600 extension 61102.