Glendaal Elementary finished a month-long effort of reading to help support families struggling with childhood illnesses and injuries.
While raising funds for the Ronald McDonald House Charities of the Capital Region (RMHC-CR), the main drive for students is compassion, but the Glendaal Principal upped the ante. Literacy Specialist, Serena Barclay explained, "We had a goal this year of raising $2,000. If we reach this goal, we are going to make Mr. Eagan into a human sundae!"
The grand total will be announced later this month. All donations will go to the RMHC-CR.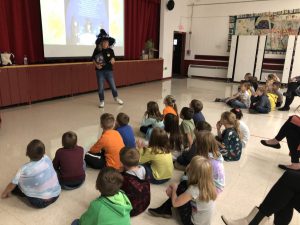 It is the third year Glendaal participated in the Read for Ronald McDonald House Charities program. This time around, there was an added feature to partner with local authors. Ms. Barclay coordinated visits from local storytellers: Ben Barrowman, Janine Cammarata, Julie Chapman, Vicki Addesso Dodd, and Rachel Nardin. She organized times for the authors to meet with each grade level. Students learned about the authors, their writing process, and personal stories of inspiration. For more photos, please check out this Facebook link.