NYS Swimming and Diving Championships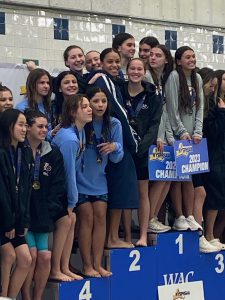 The merged BHBL-SG girls team finished 3rd out of 82 teams competing at this year's state championship in Webster, NY.
Our girls finished 2nd in the 200 Meter Medley Relay with an All-American consideration time of 1:44.96 which also is the new Section 2 record and new team record. Three of the four swimmers in this relay are from SG – senior Tia Jack, sophomore Juliet Percenti, and senior Kendal Gilbert. The same relay team finished 2nd in the 400 Yard Freestyle with a time of 3:31.78 – which is also a new team record and the 2nd fastest time in Section 2 history.
In the individual events:
SG's Athlete of the Month for September, Juliet Percenti, finished 2nd in the 50 Yard Freestyle with a time of 23.63 and 16th in the 100 Yard Freestyle.

The reigning Athlete of the Month, Kendal Gilbert, finished 4th in the 100 Yard Breaststroke with a time of 1:04.79.
Tia Jack finished 12th in the 100 Yard Butterfly.