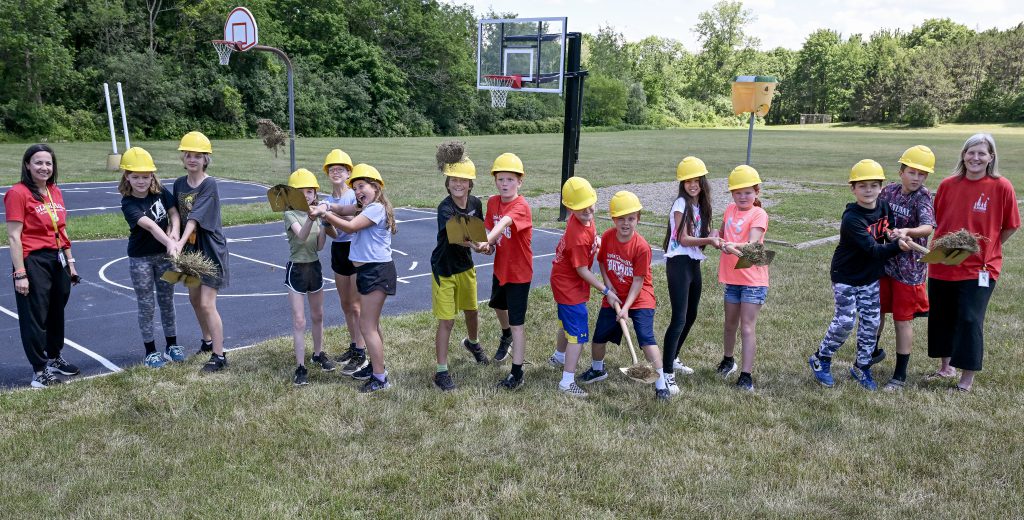 A group of Glendaal 5th graders recently learned a real-life lesson in the power of activism – and their efforts will have an impact for years to come.
This spring, the students advocated for an American Disabilities Act (ADA) compliant walkway on school grounds, and their wish will come to fruition in the next several months as a pathway is constructed on the hill that connects the school to the basketball courts below.
It all started several months ago, when some students – who are members of the school's Student Council – approached their advisors, 5th grade teacher Melissa Clark and 3rd grade teacher Gina Brown, with a conundrum. When the weather is cold or wet, they can't go on the playground during recess. It isn't much fun outside with such limited area to play, and they realized that if there was a paved path from the school to the basketball courts at the bottom of a hill behind the school, they would have more space to play.
"We suggested the students put together a proposal that they could present to Principal Eagan," said Mrs. Clark. "They had great ideas about how we could get it done with help from parents and the community, and how to pay for it."
The students also wanted to ensure the walkway could be used by anyone.
"The kids proposed this in the way that we could make it accessible for everyone. They wanted to make sure that wheelchairs can get down, and that the custodian can get down it with the snowblower," she said.
After hearing their proposal, Mr. Eagan reached out to the district office, and soon the students were presenting their plan to Superintendent Susan Swartz, School Business Manager Andrew Giaquinto, and Buildings and Grounds Co-Supervisor Dennis Cooper.
"It was a very well-thought-through proposal," said Superintendent Swartz.
Following that meeting, the district's architect, SEI Group of Albany, was asked to review the proposal and draw up plans to bring it to life.
"With the architect's plan, we went back to the students. The architect explained the plan and answered questions from the students. He talked about why the path would need to curve, versus being straight to make it accessible for everyone," said Ms. Swartz.
Ms. Swartz said it was determined the district could fit the project in with work already being done this summer, which led to the June 20 groundbreaking.
"The process went more quickly than we thought it would," said Mrs. Clark. "When we started, we cautioned the students that the project might take a long time to happen, if it was even approved."
The students were excited for the groundbreaking – particularly since it involved using gold shovels.
"During Student Council, we talk about what it means to be an activist," said Mrs. Brown. "They were true activists for this project."
Congratulations to the 2023 Glendaal Student Council members who spearheaded the walkway effort:
Aleesha Barry
Alivia DiBlasio
Kanoa Fernandez
Alexis Flickinger
Jordan Hammond
Reegan Keating
Brady LeClair
Evan Leon
Jordan Lewis
Violet Minick
Evangeline Nilsson
Jameson Woodfield
Charlie Zurakowski
Lydia Zurakowski