Congratulations to swimmer Kendall Gilbert and soccer player Trevor Gerke for being selected as the top performing Tartan athletes for the month of October. 
Female Athlete of the Month
Kendall Gilbert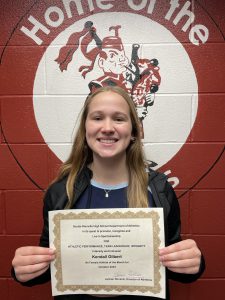 Kendall Gilbert is a senior on the varsity swim team.
She has presently qualified for four NYS championship races. Kendall is currently ranked 2nd in the state 100-meter breaststroke. Last week she accepted a Division 1 scholarship to swim at UMASS next fall.  
Kendall is as humble as she is gifted. Her passion for Tartan Teamwork and putting the team first sets her apart. 
She works hard in the classroom as well-where she carries a 94 average. 
Male Athlete of the Month
Trevor Gerke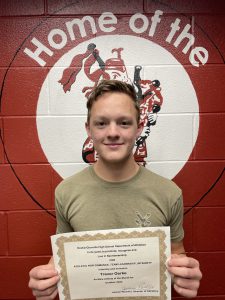 Trevor Gerke is a senior on the varsity soccer team.  
This captain had 76 saves during the regular season and saved nine out of 10 shots taken during the team's sectional run to the quarterfinals.  
Trevor's five shutouts top the Foothills Council this year. A leader on the field, he directs his teammates with compassion and conviction. 
A heavy equipment major, Trevor carries a solid 90 average in the classroom.