Customize your experience using a mobile device
ParentSquare allows users to select their preferred notification delivery method and language. When a message is posted, users have the option to get an email, text, and/or app notification. Users can also decide if they want an instant email each time or a digest email that comes at 6:00 p.m. with all the messages for the day.

Note: If you have already been using ParentSquare on another device (e.g., computer), you'll need to use your ParentSquare login for the mobile app. If you have not been using ParentSquare at all yet, then you will be asked to create a password, which will also work for your ParentSquare account on other devices.
Notification Preferences
Open the ParentSquare app.

From the home screen tap the

triple bar

menu at top left.

Select

Account

and then

Notifications

.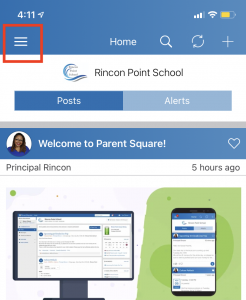 Select how you want to be notified at each school.




– Turn OFF

Custom Settings

to use the same notification settings for all schools.




– Turn ON

Custom Settings

to set different notifications at each school.
Toggle on or off to receive

Email, Text

and/or

App Notifications.
Select Instant or Digest for each mode. Note: If Digest is selected – you will receive one notification per day, for all posts, in the evening at 6pm.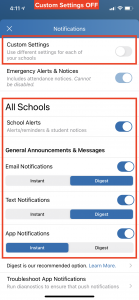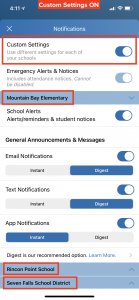 Language Preference
Open the app
From Home, tap the triple bars in the upper left.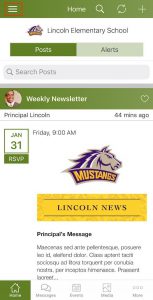 Select Account, then Preferences.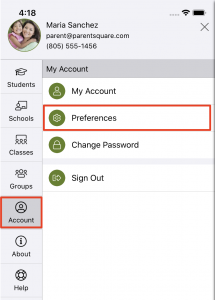 From the Preferences screen select Language.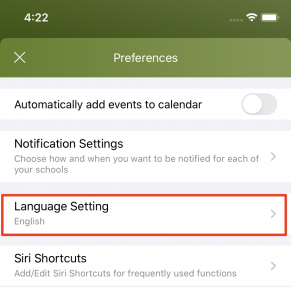 Choose your preferred language. You will receive all post messages in your preferred language.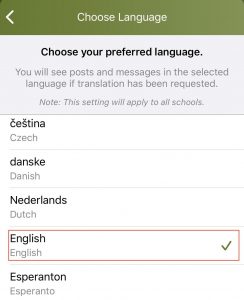 Need more help? Check out the ParentSquare Help Articles Library. You must be logged into ParentSquare to access articles.