Customize your experience using a computer
ParentSquare, the company operating our app, allows users to select their preferred language and notification delivery method.

When a message is posted, users have the option to get an email, text, or both email and text.

Users can also decide if they want an Instant message or a Digest email that comes at 6:00 p.m. with all the messages for the day.
Notification Preferences
Log into your ParentSquare account.

On your home page in the upper right-hand corner of the page, click your name and select

My Account

.

Click

Notification Settings.

Choose your preferred Notification Settings for General Announcements & Messages (Off, Instant, or Digest) and School Alerts (On or Off). Once you've made selections, future messaging will send based on your preferences.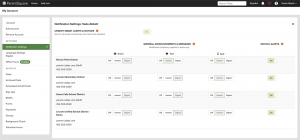 If you have multiple emails or phones listed on your account, set the order of your preferred contacts to receive notifications. Notifications will only be sent to

one email

and

one phone

on your account.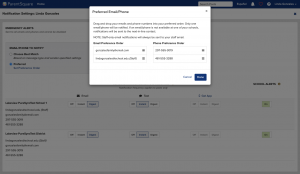 Note: If multiple accounts exist (parent vs staff), "Choose Best Match" setting will select the most relevant email and phone to send the notification to. For example, notifications related to the student/parent/guardian will go to the personal email/phone, while notifications intended for staff only will always go to the staff email/phone. Posts sent to both staff and parents will default to the parent email/phone.
Language Preference
From

Home,

click the down arrow next to your name, in the upper right.

Select

My Account.

Click on

Language Settings

in the left-hand sidebar.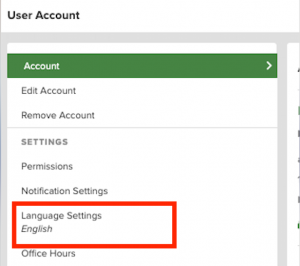 Select your preferred language

 

from the drop-down menu and click Save.
Need more help? Check out the ParentSquare Help Articles Library. You must be logged into ParentSquare to access articles.