Parents of CPSE Children who are Transitioning to Kindergarten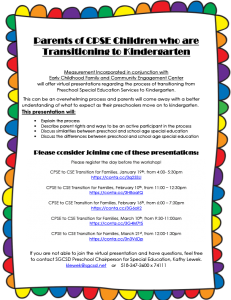 Measurement Incorporated in conjunction with Early Childhood Family and Community Engagement Center will offer virtual presentations regarding the process of transitioning from Preschool Special Education Services to Kindergarten.
This can be an overwhelming process and parents will come away with a better understanding of what to expect as their preschoolers move on to kindergarten.
This presentation will:
Explain the process
Describe parent rights and ways to be an active participant in the process
Discuss similarities between preschool and school age special education
Discuss the differences between preschool and school age special education
Please consider joining one of these presentations:
Please register the day before the workshop!
CPSE to CSE Transition for Families, January 19th, from 4:00 – 5:30pm
CPSE to CSE Transition for Families, February 10th, from 11:00 am – 12:30pm
CPSE to CSE Transition for Families, February 16th, from 6:00 – 7:30pm
CPSE to CSE Transition for Families, March 10th, from 9:30-11:00am
CPSE to CSE Transition for Families, March 21st, from 12:00-1:30pm
If you are not able to join the virtual presentation and have questions, feel free to contact SGCSD Preschool Chairperson for Special Education, Dr. Cynthia Nash at (518) 386-4304/(518) 347-3600 or email at cnash@sgcsd.net