What do you get when you add seven retired S-G teachers with two current SGHS teachers and a generous outpouring of support from the community?
Raising awareness and significant funds to support cancer research.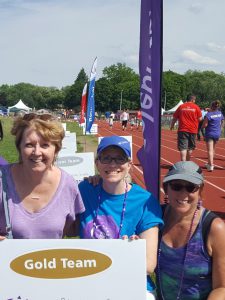 The Scotia-Glenville Bee-lievers Relay for Life team is made up of seven retired teachers representing all six schools in the Scotia-Glenville District: Sandy Belfance, Colleen Carnevale, Adrienne Hall, Grace Hillers, Melissa Peterson, Claire McDermott, and Diane Skibinski.
They will be participating in Schenectady County's Relay for Life this weekend at Niskayuna High School. As part of their fundraising efforts this year, they were humbled by the generosity of the community. The S-G Bee-lievers collected $2500 in donations from area businesses and are now raffling off "A Taste of Scotia" basket which will offer more than $1,800 in gift cards to nearly 40 Scotia-Glenville businesses and a new battery-operated lawn mower.
"When our S-G businesses were asked to donate to help our team raise money for the American Cancer Society, they responded in a huge way," said Diane Skibinski, who formerly taught at the high school, middle school, and Glen-Worden Elementary. "Many remarked that they knew one of the teachers on the team and/or their child was taught by them," she said.
Teachers supporting teachers — making a difference in the fight against cancer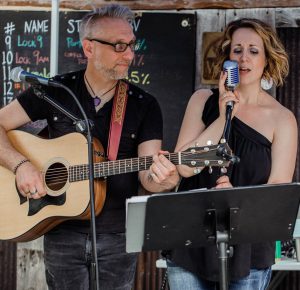 Two SGHS teachers, Jessica Crisci (music) and Rob Przedwiecki (science), from the musical ensemble, Happenstance, will be performing live today after school for a S-G Bee-lievers Relay for Life Benefit, from 3-5 p.m. at the Hometown Pub and Grub.
"The reason that we started this musical journey together and have continued it for the past seven and a half years, is because of the support of many of our colleagues.  Whenever we are given the chance to repay that support by lending our voices to a noble cause, we are humbled by that opportunity, and make sure to find the time to make it a reality," said Mr. Przedwiecki.
Raffle tickets and luminaria bags to honor lives touched by cancer, will be sold at today's benefit and throughout June to raise money for the American Cancer Society.
The Scotia-Glenville Bee-lievers
Sandy Belfance
Formerly taught at Lincoln and Glen-Worden
Colleen Carnevale
Formerly taught at S-G High School, Sacandaga and Glendaal
Adrienne Hall
Formerly taught at Glendaal, Glen-Worden, and Lincoln
Grace Hillers
Formerly taught at Lincoln and Glen-Worden
Melissa Peterson
Formerly taught at Sacandaga
Claire McDermott
Formerly taught at Glen-Worden
Diane Skibinski
Formerly taught at S-G High School, Middle School and Glen-Worden