ALBANY/SCHOHARIE – March is Women's History Month and we're shining a spotlight on women in the trades who building solid futures through their time at Capital Region BOCES.
Whether it is building trades, automotive trades, welding, or heating, ventilation, air conditioning and refrigeration, the role these women play in these fields is notable.
Current Career & Technical School students say they enjoy challenging perceptions by pursuing nontraditional careers they are passionate about.
"I like to take things apart and put them back together and figure out how they all work," said Rachel Rorick, an automotive trades senior from Sharon Springs. "I knew from an early age that I when I grew up I wanted to do something that was hands-on. It was either computer building or automotive. I chose automotive because I have always been around cars."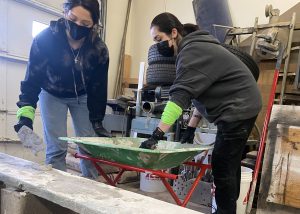 Twins Cora and Isabel Tribunella from Scotia-Glenville chose the Building Trades program at Capital Region BOCES to pursue careers in construction.
"For me, I think it's important to get out of your comfort zone and one of the reasons I came here is because it's not typical. Some people come up to me and say, 'what are you doing there?' and other people come up and say 'that's so cool'," said Cora.
"I think it's great we are not going into a field that people might think we should," added Isabel.
For Darielys Maya who aspires to be a welder, it's all about finding the career that is right for her.
"The pace at which we work and the people are what make this place great. It's very fast paced. There is always something to do," the Guilderland senior said. "There's nothing bad about having welding skills and it can set you up well in the work community."
Welding junior Haley Titus concurred.
"There are a lot of different positive opportunities out there for people with these skills," the Schoharie High School student said.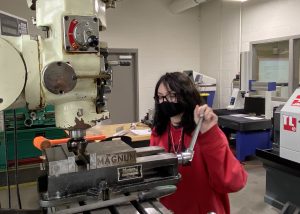 Manufacturing seniors Allison Umstadter (from Scotia-Glenville) and Caitlin Atkinson say attending BOCES in a non-traditional career path has prepared them for future success.
"I (already) have a paid internship at Greno Industries making parts for GE and other places. … The people there are great and taught me techniques that I can use now and in the future," said Umstadter, a  Scotia-Glenville student who will attend Hudson Valley Community College's Advanced Manufacturing program in the fall.
Atkinson plans to use the skills she has learned at BOCES as a foundation for an engineering career.
"I am going to Alfred State in the fall for their manufacturing program," the Cobleskill-Richmondville student said. "My goal is to learn more about manufacturing and get a better understanding of how everything comes together because I want to go into engineering and I think that will help me."
According to Workwave, women in skilled trades are in demand as an untapped resource for skilled workers in trade jobs, as there is a predicted shortage of the labor force and an anticipated growth in job opportunity. In fact, the Bureau of Labor Statistics occupational employment projection expects such employment to grow by 8.4 million jobs.
Capital Region BOCES Career & Technical School has long offered such opportunities for all students. For more information, go to https://www.capitalregionboces.org/career-technical-education/courses-programs/