OPPORTUNITIES AND PROGRAMMING FOR ADVANCED LEARNERS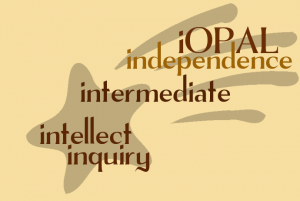 Welcome to the iOPAL (Opportunities and Programming for Advanced Learners) program at Scotia-Glenville. This program was formally known as the Academic Enrichment Program (AEP)
The Scotia-Glenville elementary Library Media Specialists develop, implement, and assess information, reading, visual, and digital literacies through the iOPAL program for students in grades 3-5.
The preferred method of instruction, based on the results of national studies, is inquiry-based learning. Through inquiry, students become active learners rather than passive researchers. Through a carefully scaffolded process, the students morph from information consumers to product generators.
The inquiry-based learning documented in the National Common Core Learning Standards is currently the most successful in the iOPAL program for advanced learners in grades 3 -5 rather than the classes taught in isolation of the classroom curriculum on a weekly basis.
Students is grades 3-5 attend one hour weekly classes to work on inquiry-based modules.
In addition to the iOPAL program for elementary students, advanced courses are also offered at the Middle School (honors courses in English, science and math) and High School (AP and University in the High School college-preparatory course as well as a variety of honors courses). See more at the academics link.