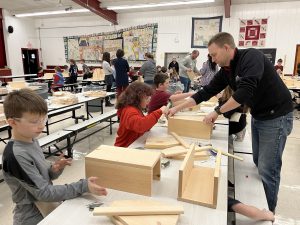 Fourth and fifth grade students at Glendaal had the opportunity to learn a skill during a presentation that introduced them to tools of the trade for the construction industry.
"It was primarily a program to encourage students to think about careers in the trades—specifically construction," said Principal Eagan. "Kids had an awesome time and got to bring home a cool toolbox that they made."
During this informative hands-on lesson, students explored building and creativity. Each student used the tools and supplies provided to assemble a toolbox.
Check out more photos through this link on our Facebook page.