Scotia-Glenville High School students performed at the 43rd annual Melodies of Christmas, a benefit to raise money for childhood cancer and blood disorders. The concert, filmed at Proctors Theatre, will air on CBS 6 and the CW at various times throughout Christmas Eve and Christmas Day.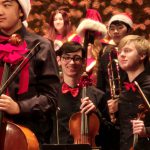 The holiday show features the Melodies Chorale and Empire State Youth Orchestra (ESYO). Matthew Kenyon is a violist in the ESYO. The orchestra rehearsed for several weeks in preparation for the concert.   
S-G students participated in four performances. One piece was the Mother Gingersnap number from the Nutcracker. During this number, a cast of costumed characters moved through the auditorium greeting the audience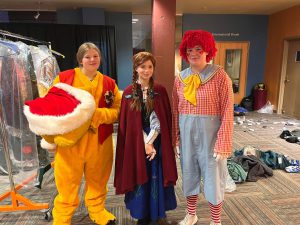 members.
 The character cast included: Courtney Adis, Sophie Allen, Paige Beauchamp, Olivia Brandow, Kassandra Clark, Shannon Cook, Amelia Diggins, Christina Mills, Hayleigh Prusinowski, Sarina Prusinowski, Gabby Stark, Abigail Taylor, David Viall, and Aiden Weigert. 
Event sponsors – CBS 6, Price Chopper/Market 32, and Freihofer's Baking Company – put on this show to raise money for the Melodies Center for Childhood Cancer and Blood Disorders at Albany Medical Center.
Through the years, the Melodies of Christmas concerts have brought in nearly $10 million.