Student-athletes from Scotia-Glenville are helping the Foothills Council make key decisions that will advance new measures to promote fairness and respect in sports.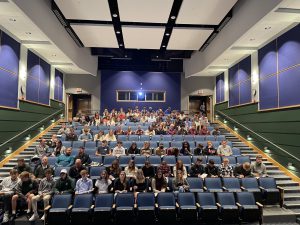 Ten S-G students were among 100 student-athletes representing their schools at the Foothills Council Summit.
Premier Sports Psychology services talked with the students about different ways to be leaders in school, on their teams, and as delegates to the league. The Foothills Council comprises 10 schools that compete in Section 2 of the NYSPHSAA. It is currently the second largest Section 2 league with Class A and B schools.
The S-G students that worked together on creating new procedures for good sportsmanship for the entire league are: Spencer Gilbert, Kellan Kristel, Austin Stark, Kofi Jack, Wyatt Ossenfort, Lillian Steward, Savannah Swiatocha, Isabel Amurao, Stephanie James and Karaline McCarthy. This group now plans to be actively involved with the Varsity Club to help promote the "Live IN Sportsmanship" theme, the unified sports program, as well as, working with Section 2 and the Foothills to help improve sportsmanship.