On National Police Woman Day, the district is proud to honor our School Resource Officer, Michelle Arreola. Thank you for your service, for keeping our schools safe, and for being a positive role model. Officer A, as the kids know her, spoke to students during assemblies at each school building last week. "I am happy to be back this school year," she said.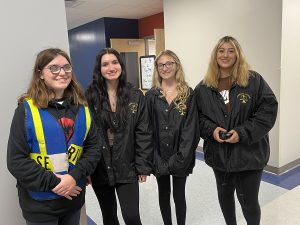 Scotia-Glenville high school senior Graciana Tricozzi is exploring areas of law enforcement with dozens of other young ladies enrolled in the Criminal Justice Program at BOCES Albany and Schoharie campuses. Graciana spent the morning patrolling the hallways at the new Career & Technical Education Center in Albany.
"It's good to see there's an interest in this field," said Officer A. "It can be challenging but very rewarding. They need good folks."
In total, 136 students from nearly two dozen school districts are taking criminal justice courses at BOCES Career & Technical Education Center. The program prepares students for careers in law enforcement and provides an opportunity to be certified as a security officer.