A legacy of safeguarding students and democracy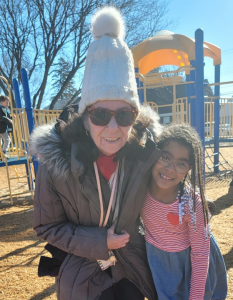 Geraldine Yager is the "helper person"—that Mr. Rogers told us to look for—in times of need. But even if you didn't learn that lesson as a child, it's OK, because Gerry looks out for everyone at Lincoln, and she's been doing it for four decades.
2023 Founders Day award winner Gerry Yager makes every day special and fun as a lunch and recess monitor who started her career in the district in 1979.
"Wherever I go in Scotia, I usually meet someone who went to Lincoln School," Gerry said. "I've been with these kids since kindergarten. An hour a day–for five or six years–that's a lot of time."
"I have a collage of memories. All of these children are different and yet they are not. They are each little individual people with different ideas and thoughts. They are just beautiful, all of them," she said.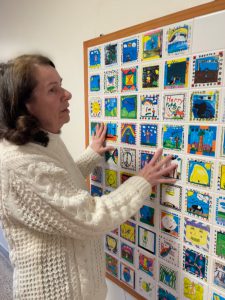 "Kids are my thing, but kind of on my terms," she said. "There's a difference when you are in a classroom because there is a whole structure, and I don't have that. Today we played the card game war and there were seven or eight kids who couldn't wait to get there. You just make it fun. It's not school, it's fun. I think it's important to relate with them and acknowledge them for who they are. Some need more than others. But I find something to connect with them, make them feel good and build self-esteem, and they reciprocate."
Gerry refers to Lincoln School as her happy place. "You walk through the halls and the artwork just embraces you–you can just feel it. And the kids are just full of hope and energy, and everything is exciting to them and new and creative. It's a wonderful place to be." She often thinks about the former students whose art decorates the hallways, saying, "I wonder where they are, did they do well, are they happy?"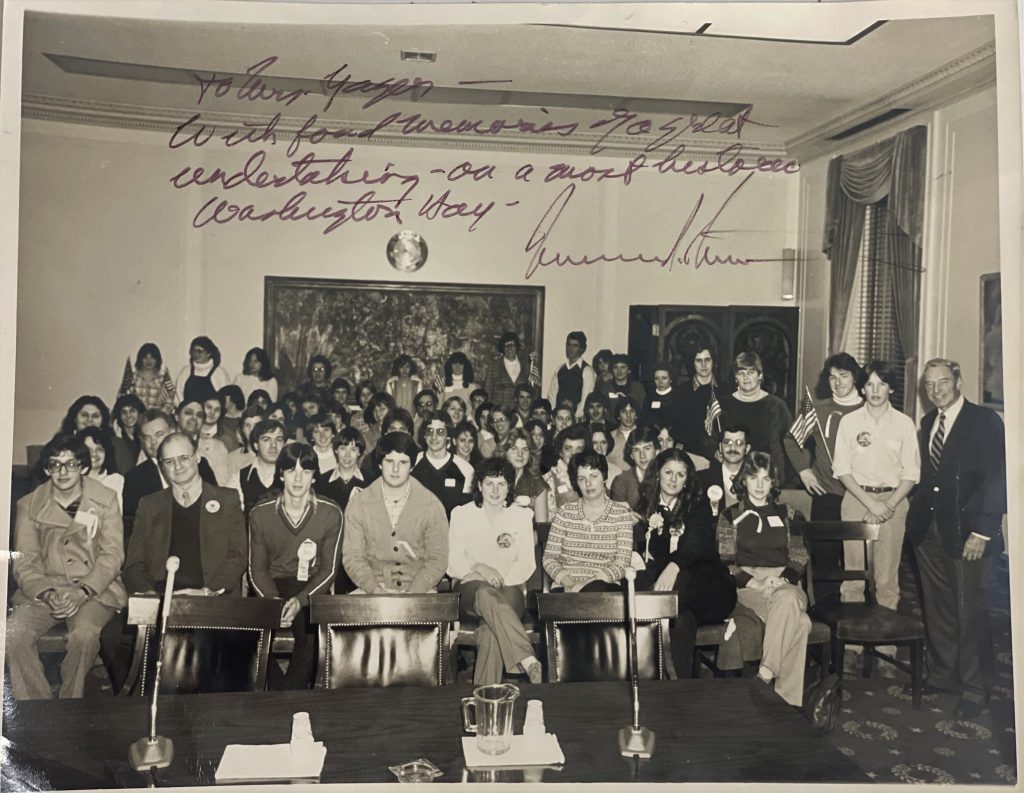 Gerry is a fascinating storyteller and has a great interest in current events and American politics. In 1981, when hostages were returning home from Iran, Gerry was motivated to coordinate a bus trip to Washington, D.C. so Schenectady County students could witness history. Then-Congressman Sam Stratton praised Gerry for her effort. "There was a whole variety of people that did something to pull it off," Gerry said. Dennis Madden opened the Proctors Theatre lobby for the kids to wait for the bus. The Schenectady Police Department had extra people downtown to make sure they were safe.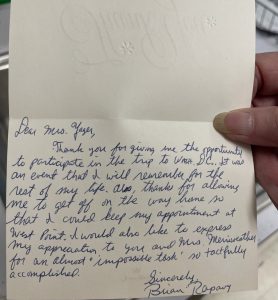 Within days, donations came in to pay for the trip and logistics were set—even a quick detour on the way home so a S-G student could honor those Americans who sacrificed and also attend his scheduled interview at West Point. Gerry recalls the desire then-senior Brian Rapavy had to greet the hostages. So, she said it was arranged for the bus to drop the boy off at a rest stop on the way back from D.C. to meet his parents so he could also make his appointment at West Point. Brian attended the United States Military Academy at West Point after graduation and earned a BS in chemistry in 1985.
"We have to do these things for our kids, they are our future."
"We want the kids to go to Washington for the purpose of seeing democracy in action and to feel unity in our country, which we haven't had for many years," Gerry told The Daily Gazette ahead of their trip to see the newly freed hostages on American soil. After reading aloud that quote from an original copy of the newspaper she saved for 40+ years, Gerry immediately hit the table and passionately said, "You could say that today! The kids have to feel that. And we are losing it. We cannot lose this. Democracy is at stake here. Here I was in '81, I felt that then, and I still do. I know I was right then, and I know I am right now."
About a month after the trip to Washington, Mrs. Yager got a phone call at home from Gary Lee, one of the former hostages. She said Mr. Lee told her he heard about the effort and thanked her for helping to bring the group to D.C. She also listened as Mr. Lee explained the moments that transpired leading to their liberation. "I just cried," she said.
Gerry was born in Brooklyn, she talks about watching with amazement when the World Trade Center was being built and the horror of losing her first cousin when the towers fell on September 11, 2001. Gerry reminisced about her childhood and tied every story back into the woman she is today. The understanding of how support and access to opportunity during her youth helped lead to a more purposeful life is one of the reasons that compel her to make meaningful connections with the students she cares for. She takes time to listen and get to know everyone at Lincoln. She welcomes students and their families to feed the fish at the pond outside of her home. As a child, Gerry would spend a lot of time at the Brooklyn Botanic Garden during the spring and summer. That's where, she says, the idea for her fishpond and love of gardening came from. She is a master gardener.
Gerry is a loving wife of 56 years and mother of two sons. She and her husband Bill have four grandchildren. They were recently blessed with their first great grandchild. "My children were a gift; my grandchildren were a bonus, and my great grandchild is a blessing to carry on our name."
Geraldine Yager is building a legacy while serving the Scotia-Glenville Central School District. She is an inspiration to us all and these are simply a few of the reasons she was chosen to receive the PTA Council's Founders Day Honorary Life Membership Award.