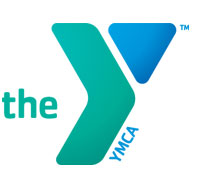 The Capital District YMCA offers before- and after-school care at the four Scotia-Glenville elementary schools – Glendaal, Glen-Worden, Lincoln and Sacandaga.
The Scotia-Glenville School District program is held from 7 a.m.-8:30 a.m. and from the school's dismissal time to 6 p.m., Monday to Friday.
The YMCA programs are held in the school cafeterias and include snacks, outdoor play, games, arts and crafts, homework time, ​STEM, Math & Reasoning, Reading, Cooking, Dramatic Play, gym time and kid choice activities. The children are placed in appropriate age groups and the activities are structured to meet their developmental needs.
The staff, trained in school age childcare, work with the groups of children. The child/adult ratio is 10:1.
The YMCA's programs are registered with the NYS Department of Social Services and licensed with the Office of Child and Family Services.
The daily activities that the children participate in are the following choices: Indoor and Outdoor Recreation, Daily Arts and Crafts, Homework, Snack, Character Development and Creating and making New Friends.
The YMCA operates this program in four school districts: Mohonasen, Schalmont, Schenectady and Scotia-Glenville.
The best way to get more information about the programs is by contacting Sahara Outing at souting@cdymca.org
Learn more about the YMCA program
Apply online for the Before- and After-School care program for 2021-2022: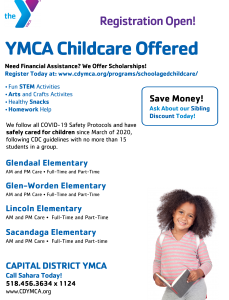 Registration is NOW available online.  To SAVE time our Y's Time Before and After-School program is now available at http://cdymca.org/ymca-childcare/schenectady-childcare/before-and-after-school-programs-schenectady/
You can register for your child care needs/services for Glendaal, Glen-Worden, Lincoln and Sacandaga.
Here are some guidelines about the YMCA YCare program when school is delayed or closed
The program opens each day at 7:00 a.m.
TWO-HOUR DELAY: If there is a two-hour delay to the start of school, the programs are OPEN one hour later.
AFTER-SCHOOL ACTIVITIES: If the district cancels after-school/evening activities, the program is OPEN.
EARLY RELEASE: If the district closes and there is an early release, the program is CLOSED.
CLOSED: If the district is closed, the program is also CLOSED.