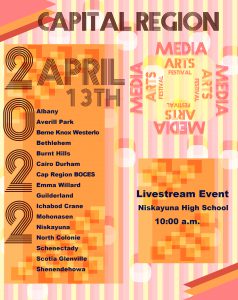 Congratulations to the following artists who have work in the virtual Media Arts Show at Niskayuna:
Dylan Bruce, grade 10
Owen Burke, grade 11
Jada Lee DuBerry, grade 10
Emily LaPan, grade 10
Pierson Long, grade 11
Ellie Mott, grade 12
Anna Muscatiello, grade 11
Morgan Nichter, grade 12
Kaylee O'Malley, grade 10
Emma Ostrander, grade 10
Emily Tricozzi, grade 10
Joseph Velasco, grade 12
This year, the Media Arts Festival will be livestreamed to schools region-wide on Wednesday April 13 at 10:00 a.m. Seventeen participating schools submitted film, photography, animation, computer art and graphic design work. The livestreamed festival will include a keynote interview and announcement of awards for each category as determined by our jurors. The work was adjudicated by art professionals including a photographer, filmmaker, illustrator and graphic designer.
Families are invited to join us for this special presentation at 10:00am on April 13 through this link:  ​​youtube.com/channel/UC58O2qi-WaLaL33z2VZKfcA/live
A website featuring all of the wonderful work submitted for the festival will be shared with districts on April 13 after the livestream.
Congratulations to Award winners, Pierson Long, grade 11, and Emily Tricozzi, grade 10.
Here is their artwork: