Several high school science classes recently experienced a unique demonstration of the importance of wearing seat belts.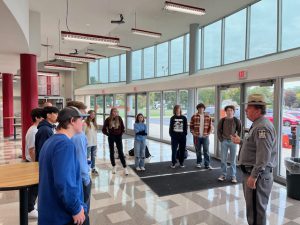 Science teacher Jeff Bower invited Troop G School and Community Outreach Coordinator, Trooper Steven Rothwein Sr. to visit SGHS and requested that he bring the Seat Belt Convincer. Mr. Bower's initiative enabled several science classes, including physics, to listen to a brief presentation from the trooper and then have the opportunity to experience the convincer.
The modified car seat has a standard seat belt which students buckle before traveling down the ramp. The machine then comes to an abrupt stop simulating a "crash" of 5-7mph. This hands-on experience helped the students understand the importance of buckling up and also allowed them to perform several calculations in their science classrooms, making it a truly valuable lesson.