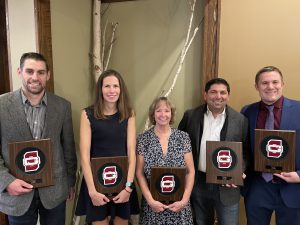 At the induction ceremony on October 8, Scotia-Glenville School District honored four alumni and a beloved coach into the Athletic Hall of Fame.
The mission of the Scotia-Glenville Athletic Hall of Fame is to recognize the outstanding athletic careers exemplified by character, citizenship, commitment, leadership, and perseverance of athletes, teams, coaches, administrators, faculty, and community supporters.
PETER ROWELL
CLASS OF 2007
CROSS COUNTRY, TRACK AND FIELD
Current S-G record holder in the indoor: 4×200 and 4×400; and the outdoor: 400, hurdles, 4×200, and 4×400. Currently ranked 24th on the All-Time Top Male Tartan Times at SPAC.
ERIN DOAK
CLASS OF 2001
CROSS COUNTRY, TRACK AND FIELD
Currently ranked Fifth on the Top Female Tartan Times at SPAC. Former S-G record holder in the 800, 1500, 3000, and 4×800.
CARL DICESARE
CLASS OF 1999
WRESTLING
Accumulated 101 victories at S-G. Won multiple individual tournaments: Class B Runner-up from 1997-99, and won Third Place at Section II Championships.
ERIC VAN PATTEN
CLASS OF 2005
WRESTLING, SOCCER
Accumulated 99 victories at S-G. Voted Outstanding Wrestler at Section II Championship, and Section II Sportsmanship Award Winner at NYS Championships.
GLENN STOPERA
SCOTIA-GLENVILLE COACH 1994-2015
YOUTH AND VARSITY BASKETBALL ICON
Awarded posthumously, Coach Stopera was the beloved President of the Tartan Youth Basketball Program from 1998 to 2021.
As a player at Fulton Montgomery College, Stopera made the 1970s All-Decade Team and still holds the record in All-Time Single Season Assists.
As an Assistant Varsity Basketball Coach, he helped lead the boys team to win two consecutive State Championships in 2014 and 2015.
Scotia-Glenville's '15 tournament MVP Joe Cremo delivered a video message from Spain honoring Coach Stopera for this award and contributions to the S-G basketball program. Cremo expressed gratitude for what Coach Stopera meant to him.