COMMENT: As both a former student of Scotia-Glenville and a current resident, I am wondering if the choice of school mascot, the Tartan, has ever been revisited as appropriate and relevant. After researching the name, I can only find references to a specific type of plaid. I also found a reference which stated that sometimes the word is used mistakenly to refer to a Scottish or Asian warrior, which seems to be the case with our Tartan. As a student, I often wondered about the significance of the mascot's name. Is it a nod to those in the area who have Scottish ancestry?
REESPONSE: Yes, the Tartan, the mascot for our athletic teams, is meant to recognize and celebrate the Scotish history of the Scotia area. The mascot's kilt and cape are in a Tartan pattern.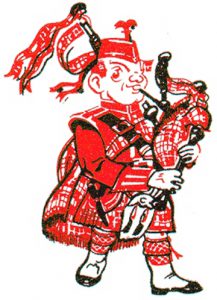 The Tartan became Scotia-Glenville's mascot around 1957 just as the new high school was opening. The high school was part of the new Scotia-Glenville Central School District, which had come into being after being centralized in the early 1950s. Previously, high school students in the area attended the current Mekeel Christian Academy on Sacandaga Road. There have been no movements to revisit the Tartan as our sports mascot.
The Tartan design was a way to demonstrate to others that you are part of a specific clan in Scotland.
According to Wikipedia, "a Scottish clan (from Gaelic clann, 'children') is a kinship group among the Scottish people. Clans give a sense of shared identity and descent to members. Most clans have their own tartan patterns, usually dating from the 19th century, which members may incorporate into kilts or other clothing."
So, I guess you could say, our Tartan shows that he is part of the Scotia-Glenville schools "clan."