Dear Parents and Guardians,
Thank you for your continued support and collaboration as we navigate the 2020-2021 school year.  We are approaching the change of trimester at the elementary level and are providing families with the opportunity to request a change to their child(rens) enrollment/learning preference between virtual to in-person or in-person to virtual.  We are asking that you commit to this choice for the entire second semester (December 7- March 5).
We ask you to consider the following when making a decision for your child(ren). Due to Department of Health regulations and social distancing requirements, we do not have the space available in every building and every grade to welcome all students back to their home school. There are specific Department of Health space constraints which impact our ability to receive students at each building and grade level differently.  As shared in the Town Hall meetings, children who  return to in-person learning from a virtual setting may not be able to return to their home schools during the current year and may be placed temporarily in a different elementary building . Additionally, if you have multiple children in different grade levels, they may be placed at different buildings. At this time we are unable to guarantee that all requests for transportation will be accommodated. We will communicate what we can offer/provide during the week of November 30th.
In order to determine where space is available, we are asking families to complete a Trimester Two Learning Preference Survey. The survey will be made available from Monday, November 2 to Friday, November 6 in the PowerSchool Parent Portal.
This week you should have received a letter inviting you to create a PowerSchool Parent Portal account or add your elementary aged children to an existing account. We will be posting the survey in the portal and we ask that you fill out one survey for each elementary school child in your home. Directions to access the survey are listed below.
If you need assistance setting up your PowerSchool Parent Portal account please contact Terri McKenzie at tmckenzie@sgcsd.net (518) 347-3600 ext. 75501 ,or Sharon Riggi at sriggi@sgcsd.net (518) 347-3600 ext. 72101. You will be asked a series of questions to confirm your identity and connection to your child(ren).
If you do not have access to a computer you can call your child(rens) school and they can populate the survey for you.
Thank you for your continued partnership.
Karen Swain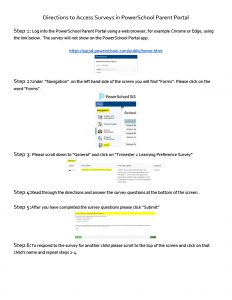 Directions to Access Surveys in PowerSchool Parent Portal
Download these directions (including visual aids) here.
Step 1: Log into the PowerSchool Parent Portal using a web browser, for example Chrome or Edge, using the link below.  The survey will not show on the PowerSchool Portal app.
https://sgcsd.powerschool.com/public/home.html
Step 2:Under  "Navigation"  on the left hand side of the screen you will find "Forms". Please click on the word "Forms".
Step 3: Please scroll down to "General" and click on "Trimester 2 Learning Preference Survey"
Step 4:Read through the directions and answer the survey questions at the bottom of the screen..
Step 5:After you have completed the survey questions please click "Submit"
Step 6:To respond to the survey for another child please scroll to the top of the screen and click on that child's name and repeat steps 2-4.