Dear Scotia-Glenville Community:
I hope this communication finds you and your families well. This has been a school year like no other and we are doing all that we can to stay open for in-person and hybrid learning for as long as it is safe and possible. The data has shown, and our government officials and health experts have agreed, that the spread of COVID-19 is largely not happening within schools, but within the community. The district's strategies of wearing masks, social distancing, cleaning and sanitizing, daily health screening, grouping students in cohorts, and reduced population density due to the fully-remote option has been working.  As of January 21, 2021, we have had 71 total staff and student cases that have been reported within our 6 schools over the last four months. While every case of COVID-19 is considered significant, these total reported cases only account for 2% of our school staff and student population.
Governor Cuomo and the Department of Health have required schools within a designated area to test a percentage of the in-person/hybrid population. Depending on the metrics chosen by the Governor and the Department of Health, we will be testing 20% of students over a two-week window or once a month. We will communicate the Department of Health directives to you as soon as we have been made aware of our designation.
We are dedicated to in-person/hybrid learning and keeping our schools open safely. If testing becomes necessary we will require certain percentages of in-person/hybrid staff and students to be tested. We will need your help to stay open in the form of COVID-19 testing for your child(ren). Rest assured that testing is by parental consent only and we will never test your child(ren) without permission. Our testing partners, in coordination with school nurses, will test a voluntary randomly selected group of students from grades K-12 and staff throughout the district.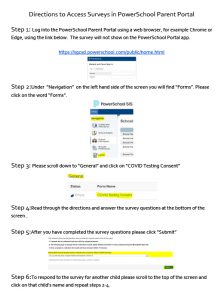 It is for this reason that we are asking parents/guardians of in-person/hybrid students to fill out the Consent to Test for COVID-19 form by February 12. The form can be accessed through your PowerSchool Parent Portal. Separate forms must be completed for each child who attends in-person school. Please fill out this form either way – whether you consent to testing or refuse testing for your child(ren).
Here are the directions in PDF for accessing the Consent Form in Powerschool.
Despite our Scotia-Glenville Schools percentages remaining low, the region has experienced an uptick in cases, placing increased demand on contact tracing and testing result turnaround. In the event you learn your child does test positive for COVID-19 through non-school testing, please continue to notify your school's main office to allow contact tracing to continue – even if you are keeping him or her home. Please continue to follow the guidelines of our health department and government officials such as wearing a mask and staying socially distant. We will work together to remain healthy and provide in-person schooling!
Below are some frequently asked questions. Additionally, you can always email any COVID-19 questions to rhanlon@sgcsd.net who will direct your question to the appropriate individual.
Sincerely,
Susan Swartz
Superintendent of Schools
FREQUENTLY ASKED QUESTIONS
The questions and answers set forth below are based on the current guidance from NYS as of January 2021 but are fluid and subject to change.
Who will be tested? How often?
Staff members and students will be tested. Rest assured, we will only test students whose parent/guardian has given express written permission by filling out the Consent Form in your Powerschool portal by February 12. If you consent to your child(ren) getting tested, your child(ren) may be tested multiple times for the remainder of this school year ending June 30, 2021.
Are students and staff members who are all-remote part of the testing?
No. All-remote students and employees will not be tested and should not complete the consent form.
Where and when will the testing take place?
Testing will take place in a designated area in each school. As soon as we know the timing of the tests we will communicate that information.
Who will be doing the testing?
Should testing be required, it will be conducted by the trained professionals.
How will I know the result of a test?
We will notify the parent/guardian with the test results, positive or negative.
What happens if I agree to testing and my child tests positive?
In the case of a positive test result, we will call a parent/guardian immediately and that child will need to be picked up from school and remain at home until the criteria to return to school (according to state and local guidelines) is met; and while at home, children must continue to do school work virtually.
Which test will you use?
Should testing be required, our current testing plan is to use the BinaxNOW rapid test. Click here for a video of how the BinaxNOW test works: https://alere.wistia.com/medias/0wacsomvlr. The FDA describes it as a sterile swab similar to a Q-tip inserted less than one inch into the nostril and rotated five times or more against the nasal wall, which will then be repeated in the other nostril. You can read about the BinaxNOW rapid test at the FDA website linked here.
Here is a video of the superintendent and a student being tested with the Binax test.
If Governor Cuomo and the Department of Health change requirements we may need to change to a different method of testing but be assured it will not be invasive. If a change in testing modality occurs, we will inform the community.
Can parents be there while their child(ren) are being tested?
Because of the need to maintain social distancing and limit visitors in school, this will not be possible.
Click on the image below for the video of the superintendent and a student being tested.