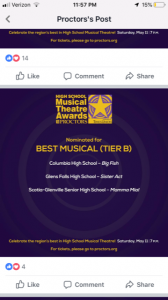 Congratulations to Scotia-Glenville's High School Drama Club production of Mamma Mia. The musical has been nominated for Best Musical Tier B in Proctor's High School Musical Theatre Awards.
As well, senior Michael Burns, who played the role of Pepper in the musical, was nominated as best supporting actor.
Three members of the Proctor's adjudicator panel attended one performance and awarded points based on a rubric system.
The Best Musical category consists of three tiers based on musical production budget.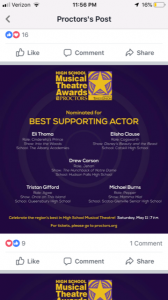 The 2019 HSMTA will be held at Proctors on May 11, 2019. Distinguished artists and professionals from the region will present the awards. The ceremony, modeled on the Tony Awards TM format, will open and close with production numbers featuring two representatives
from each participating high school.