Good evening.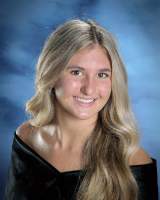 I would like to begin by thanking all of the faculty at Scotia Glenville School District and by congratulating my fellow graduates. And thank you to family and friends for joining us here tonight, we truly would not be here without all of you. I am so proud of all of us, as we have endured one of the craziest years we will probably ever experience in our lives.
I'll start with a little anecdote about a very special goldfish, named Fishy. Now despite Fishy's ordinary name, Fishy is far from ordinary. I have had Fishy as a pet for 11 years, which to me, is rather commendable. I'll shamefully admit that there was a point in time when I did not feed Fishy for several months, and in that time he ate my other pet fish. I won't dive into details, but I will say that Fishy is a survivor. He was in far less than desirable circumstances, and he took measures that I am sure his little fish brain would have never thought he'd have to take. In a far less grim way, I think we are a lot like Fishy. It may seem dramatic, but we are survivors too.
I think back to the emergence of the pandemic, when most of us were in denial. Afraid to face the reality and severity. We didn't think it'd affect us, we thought our lives would proceed as normal. Likewise, I bet Fishy thought he'd be fed and unaffected by my poor pet owning abilities. Unfortunately it was that denial that led to our worst nightmare. On March 13th, 2020 our lives changed in a way we would never expect. It began with a week off of school, then two, and suddenly the world was in lockdown, with everyone stuck at home wondering "what's next?" Suddenly plucked from the comfortable cycle of our daily lives, we had to adapt. Working, learning, and socializing remotely was not easy, but we all persevered. In fact, we did much better than Fishy, as he ate his friend. Facing difficulty together brought us closer as students and a community. We all empathize with each other's struggles because we have a mutual understanding of what it is like to face unexpected difficulties. This will be incredibly important for us to carry on for the rest of our lives, and surely, I don't think anyone will ever forget 2020 and 2021.
On behalf of my peers, their families and friends, and myself, it is an incredible privilege to be able to gather here today to celebrate reaching the end of our high school journey. Evidently, this journey has been much different for the class of 2021. To say the least, we missed out on a lot. Sports seasons were shortened and changed, we spent limited time in the building, and a multitude of "senior events" were experienced much differently than we previously pictured them. That being said, I think we can all agree that when good fortune came our way, we made the absolute most of it. Thankfully we did get to share experiences and memories that we will hold onto tight, and in addition to those memories we learned life lessons.
One I'd like to focus on is to expect the unexpected. I certainly did not expect a goldfish to live for 11 years, and counting. But on a more serious note, it is every day that we are presented with new challenges, and the strength and courage to face such challenges comes from within. I am beyond proud to be among a class of students that has maintained their persistence and positivity, attacking every new obstacle head on. These trying times have put us in a position where each day we don't know what's coming our way. This has allowed us to learn to accept that there will always be unforeseeable outcomes, which we will face as we grow into adults. A constant lack of preparedness has shaped us into stronger individuals. Not knowing what our school year would look like most definitely took its toll, but with an immense amount of support among ourselves as students and from the adults surrounding us, we adapted to the circumstances so that we could all be here today.
Another important lesson that has been integrated into all of our lives is the power of positivity. It was vital to remain hopeful for our senior year, seeing the light at the end of the tunnel. And quite frankly, I consider all of the events we've been so fortunate to have, including this commencement, to be the end of the long, long tunnel that the past two school years have been for us. It was very easy to feel apathetic, dreading sitting at our desks and joining our google meets, feeling like each day was the same as the last. That being said, a little bit of encouragement and spirit went a long way. Whether it was our teachers reminding us to stay optimistic, or peers helping each other out when we felt lost, any glimmer of hope for a promising outcome was cherished. I, for one, will continue to maintain a positive attitude and give hope to others whether they may or may not need it, and to be honest, I don't think anyone could go wrong doing the same. Every day we are impacted by others, so why not make that impact worthwhile? It takes a strong person to spread hope, and I truly do believe every student in front of me possesses that strength. We are all incredibly capable students, and to me, more capable than most because of what we have endured.
With the strength to be positive comes our individual strengths that make us who we are. Bringing the attention back to Fishy, he is among millions of other fish that exist in the world. We are surrounded by oceans, rivers, and lakes that all inhabit an astonishing multitude of creatures, each with their own role within their ecosystem, and that's what makes them special. I would say Fishy's specialty is defying odds. Similarly, students excel in all different areas. We all have our favorite subject that we are confident in and enjoy the most. High school has allowed us to establish that part of our identities. The pandemic has given us plenty of solitude to think to ourselves "Who am I?" or "What will I become?" And although we may not have been given opportunities to let our strengths shine, our migration to the next step in our lives will allow us to express who we are, surround ourselves with people who share our strengths and interests, and to discover and pursue new endeavors. Graduating high school opens up a window of opportunity, and it is on us to take advantage and express our individuality, and excel in the areas in which we take the most pride.
Now, it may seem as though the years that were supposed to be "the best of our lives" were stripped of their specialty, or taken away altogether, but we cannot help but be grateful for what we have learned from the difficulties we have faced as such young individuals. And as I begin to close this out, I would like to quote my favorite poem entitled Nothing Gold Can Stay, composed by Robert Frost:
Nature's first green is gold,
Her hardest hue to hold.
Her early leaf's a flower;
But only so an hour.
Then leaf subsides to leaf.
So Eden sank to grief,
So dawn goes down to day.
Nothing gold can stay.
This poem focuses on the transience of youth, which I think we all relate to on a deep level. The references to beauty in nature are symbolic to our lives as high school students. None of these precious and pure moments can last forever, so they must be appreciated while they do last. Despite our youthful and carefree days flying by faster than we could have ever imagined, nothing prevents us from remembering and reflecting upon our adolescence. Our golden days of high school may be gone, but we can only move up from here, taking on each hardship and learning and growing as we go. We, more than anyone, know what it's like to not have things go our way. In fact, we know what it's like to have things go the complete opposite way we would have liked them to. We have risen up as students, and continue to steadily rise each and every day, and for that we should be beyond proud and gratified, especially since it has brought us here, to walk across the stage and receive our diplomas. Again, on behalf of the class of 2021, thank you to faculty, family, and friends for your continued support, and always remember, when things don't go swimmingly, do NOT eat your friends.
Thank you.