On Monday, September 14, students should join their Google Classroom at the beginning of their school day. There they will find directions and a link to join their teacher virtually.
Virtual elementary students can expect to find one Google Classroom. At the secondary level, students can expect to find one Google Classroom per teacher. There is no Google Classroom for study hall or lunch.
Secondary students will follow their regular class schedule that they have been sent.  
Fully virtual elementary students who have not received their schedules in the mail should contact their child's principal:
Directions to log into Google Classroom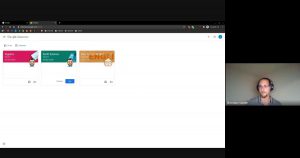 Here is a video tutorial: https://drive.google.com/file/d/1shL7D0H3ieRgUTeqRgdxtB4QDWHAR_lY/view?usp=sharing
---
Secondary students only
Here are the secondary student teams – Crimson, Strong and Tartans.
All students start school on September 14 either virtually or in-person. Each team – Crimson, Tartan and Strong – have their own specific day to attend in-person school. On the days they are not in-person they are expected to join the class virtually through the link provided in Google Classroom according to the daily class period schedule.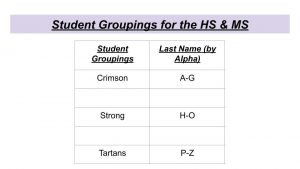 Please click on the links below to see the team calendars:
LEARNING MATERIALS PLEASE NOTE: Students who are fully Virtual for the first 10 weeks of the school year may stop by the MS and HS to pick up academic materials such as textbooks and other items which they are unable to receive electronically. 
Virtual student materials pick-up:  Wednesday September 16, 8:30 am – 2:00 pm
Middle School – drive through the front circle and pick up at the front door
High School – drive in the student parking lot by the C-wing Lobby – walk up to the B10 Cafeteria windows (clearly marked with signs)
Any High School Student (hybrid or virtual) may attend their Vo-tech Program each day with district transportation provided between the HS and the CTE center.