The school district has entered into an agreement with Anthem to provide an Employee Assistance Program (EAP) commencing February 1, 2022.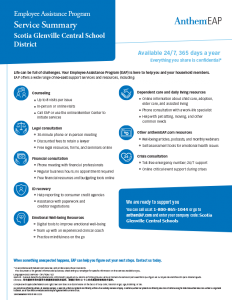 Attached you will find your Anthem EAP Service Summary. There is no cost to the employee for this program. The summary  explains all the benefits and instructions on how to access the EAP.
Here are some of the details of the  EAP:
Anthem EAP program begins 2/1/2022
The 24/7 EAP toll free number is 1-800-865-1044.
EAP services are available for all employees and their household members.  Services include:

Up to eight (8) counseling sessions per issue per year.  Individuals must call in to the EAP program to receive a referral prior to seeing an EAP counselor.  Because the EAP sessions are available on a per issue/ per year basis, a person could call in January due to stress at home; in July due to stress at work; in December due to the holiday blues; and so on.  It just needs to be a unique issue for each referral. Employees also have the option of seeing a therapist or psychologist via video conferencing through LiveHealth Online.
Legal/Financial consultation. The EAP program can assist with a variety of legal/financial concerns such as criminal law, real estate issues, debt and bankruptcy, and more.  By calling the toll free number, individuals will have access to free initial legal and financial consultations.  The free consultation is on a per issue per year basis.  Ongoing legal/financial services are at the cost of the individual.  Should the individual decide to retain the lawyer, the rate will be discounted by a small percentage.
Identity Theft Recovery is included as part of the EAP program and may be accessed via the EAP website.
Child/Elder care resources and work/life services referrals. The EAP program provides resource information on a variety of child and elder care needs such as day care, preparing for college, preparing for retirement, and more. The EAP program does not cover the cost of the actual child/elder care service.
Emotional Well-being. Resources give you the support you need to develop resilience, reduce stress, and practice mindfulness. ​Emotional Well-being Resources can help you identify the thoughts and behavior patterns that affect your emotional well-being — and work through them with online programs and personalized coaching. You'll learn effective ways to manage stress, depression, anxiety, and sleep issues.​

Anthem  will send an EAP monthly promotional email and a quarterly newsletter to the school district which we will  distribute  throughout the organization.
The EAP website provides information and resources on a variety of wellness topics. In order to use the website just follow these steps:
Go to www.anthemeap.com
Click on the Login button
When asked for the company name enter: Scotia Glenville Central Schools
Please feel free to reach out to Martha Moran (extension 73106) in Human Resources (HR) and we will attempt to assist with any issues or questions.
Please note, all clinical needs, management consultations, requests and employee/household member calls starting 2/1/2022 should be directed to the toll-free number: (800) 865-1044.