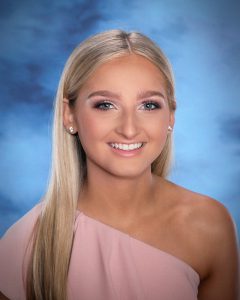 First and foremost, I'd like to thank the faculty for the efforts they have put into making these past four years memorable.  Especially this last year. I'd also like to thank the parents for those rides to practice and band rehearsals,  cheering us on at every sporting event, attending  every concert and play,  encouraging us to always do our best, and most importantly, for always being our number one fans and supporting the class of 2021 every step of the way.
When I look out into this audience, I still see the younger versions of all of you.  I bet you remember the excitement you felt walking into the high school for the first time of our freshmen year feeling those first day jitters, concerned that you did not know where to go, wondering what to wear and if you will have any of your friends in your classes. Those types of concerns seem so small in comparison to the things we ended up having to deal with over the past two years during the pandemic.
It reminds me of a little story about running shoes. I want you to picture a young girl in 7th grade trying out for track.  She receives a fresh new pair of Nike sneakers from her mother, but they were a size 9.  Keep in mind she was only a size 5.  The shoes were of course too big but her mother said she would grow into them. As she goes to run her first lap she takes off and falls right away because the shoes were too big.  She couldn't run at the speed she wanted because she didn't fit the shoes at the time.   This was the story of Deshauna Barber captain in the United States army reserve and Miss USA 2016 .  It took her six years in order to get the title and many failed attempts before she became Miss USA. Shortly after Deshauna's big successful moment, her mother passed from lung cancer. The last thing Deshauna wanted to do was to make her mother proud and that's exactly what she did. Within those six years of constant losses she was taking on stage, there was a deeper meaning. She was gradually filling the shoes to be the next Miss.USA and she did it. Not only did she do it but she evolved into a better version of herself.
Deshauna's story is one that we can relate to on many levels. Sometimes we have to pace ourselves in order to fill the shoes we are given.  So we can grow as individuals over time. Her story is also one of success and celebration.  We have so much to celebrate right now. We will never forget the small tokens Scotia Glenville High School has given us.  The yelling at pep rallies hoping we would eventually win one year, but always ended up losing.  The cheering for the football team every Friday night under the lights.  Waiting in line just before homeroom to get a coffee at the coffee shop and especially who could forget the panini's Jackie made for us.
You never dropped out of the race when things get hard. We have all  struggled during the past few years, but these challenges have helped to prepare us for the things we will face in the future.  We keep moving forward. In life you will meet lots of people along the way.  From every person you meet you will learn something new about yourself and the world. Stay determined with your goals and if you fail don't take it as a loss but, just like Deshauna Barber did, you will take it as a learning experience.
Let's now talk about High School.  We see it broadcasted in movies as this ideal thing and where people break out into song and dance.  Well, we are all sitting here and I have yet to see someone to do that.  The thing people don't tell you or the things we don't see is that High School is a rollercoaster ride full of emotions, missed opportunities and sometimes last chances.
Now I would like all of you to think about the risks you have taken in your lives. After-graduation plans are the biggest example whether it be going to college, going into the military, going right into a job or even taking a year off to travel.  You have had to make a decision in order to get to where you are going. You have made an effort to do something you know you will be happy with.  My biggest piece of advice for you is that change is good.  It might not feel right at the moment but it always works out for your best interest. I will leave you with this quote from Deshauna Barber "Do not fear failure, but please be terrified of regret."