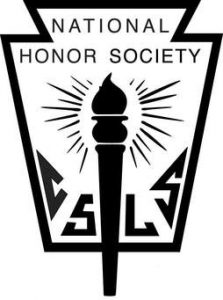 Before their family and friends, 35 high school students became the newest members of the National Honor Society during the induction last night.
All but one student is a junior, members of the Class of 2019. Here are the inductees:
Bacon, Abigail
Bianchi, Cristiana
Caldwell, Brendan
Conley, Corrine
Conley, Erica
Currie, Gwenyth
Darling, Victoria
de Jong, Breeze
DeAngelo, Olivia
Duong, Quynh
Estes, Gabrielle
Francois, Haley
Fuller, Amy
Gallagher, Katie
Groncki, Jalaina* 
Jerreld, Alexandra
Leggiero, Tatiana
Marola, Abby
Mayette, Kelly
McCarthy, Emily
McGlauflin, Brianna
McKenzie, Jacob
Ogden, Keith
Omicinski, Thomas
O'Neil, Ashlyn
Ossenfort, Braeden
Piotrowski, Myles
Rumfelt, Catherine
Schaub, Sophia
Schoonmaker, Mikayla
Sill, Lauren
Toftegaard, John
Wilson, Kaitlyn
Winney, Asia
Winters-Bona, Gabriel
*senior
How are new members considered for induction?
Membership into the National Honor Society is based on four categories: Scholarship, Leadership & participation, Service, and Character
1. Scholarship: 88% cumulative average
2. Leadership: Two years of active participation in two clubs, organizations or teams. Clubs, organizations or teams can be school or community sponsored but at least one must be school sponsored. A maximum of one sports team may be used for qualification.
One elective or voluntary leadership position must be demonstrated in the club participation component.
This position can include but is not limited to the organization of a major event, class or club officer, or team captain.
A student using a community-sponsored component must have an official representative of the community activity attest to the student's participation or leadership in that activity.
3. Service: 45 hours of volunteer service, in school or community activities, completed by the middle of junior year will meet this requirement.
4. Character: Evidence of good attitude, cooperation and ethical standards as determined by the faculty.