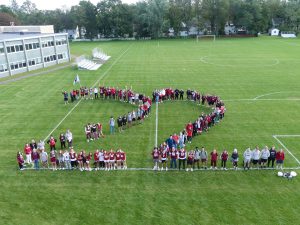 The 114th graduation from Scotia-Glenville High School was held Saturday morning at Proctor's Theatre in Schenectady.
The 185 graduates from the Class of 2022 celebrated with their friends and family to a packed Proctor's.
Here's a printer-friendly version of the graduation program.
Principal Peter Bednarek recognized the 21 students who received Scholastic Honor Awards and those who received the High School Departmental Awards.
"You faced unprecedented disruptions to your school career," said Superintendent Susan Swartz., noting that the COVID pandemic forced classes to cancel in March 2020 and they returned only part-time in the 2020-21 school year. "Despite these, you have successfully completed your requirements and are graduating."
She said she often "worried a lot about your isolation from each other and from our community…perhaps the adversity made you stronger." She wished them a "life of ease and diversity. Do not let the fear that you can't do it, hold you back."
Graduation speaker Kiernan Greeley discussed his dog, Babka, who scratched is face and made him bleed. He still carries the scar but doesn't let it affect his future.
"When teachers or students alike were out for weeks on end, it felt like the scar would only ever deepen, making it hard for us to stay on task. However we continued to hand in homework, we managed to learn our material, and continued on as though it was second nature," he told his classmates.
"Our memories at times can be pungent reminders, like a bad grade, or an assignment that gives you a seemingly unreasonable amount of grief. However, we don't let our past mistakes have the power to dictate our futures."
Graduation speaker William Schnore discussed his adventures building sets for high school plays and other things and his love of building and putting things together.
"These past 4 years of high school were like a small set we had to build. We made plans and worked to achieve them. The obstacle we faced was fitting 4 years of high school experiences into 2 and a half years all while the time continued to fly by. While our time to work was cut short that's ok," he told his fellow graduates.
"We made new friends, and of course we Graduated! And that is great news, it means we all get to start the great time of a new build! We all are going to do great things, and become greater leaders, helping to work through our problems and our nation's problems as we become the next leaders. Never forget what values you hold dear and make the changes you want to see, because when you go out to build, you always know you have your friends and those who believe in you and your ideas," he said.
Congratulations to graduate Emma Herron, who was awarded the Last Clap award, which means her diploma was handed to her last. She was nominated by her class because she shows character and represented the Class of 2022.
Here are some photos from today's graduation. Check out many more pictures on Facebook: