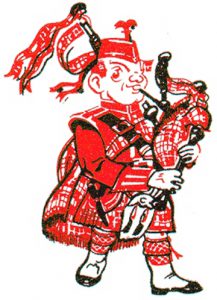 Downloadable list of athletics
The Tartan is the bagpipe-playing mascot of the Scotia-Glenville school district.
Scotia-Glenville offers a full array of interscholastic sports from modified to varsity levels.
Scotia-Glenville is a Class "A" school in the Section II of the New York State Public High School Athletic Association. In most sports, our athletic teams compete as members of the Foothills Scholastic Council. Other teams are members of the Tri-County Indoor Track League, Aqua League, Capital District Women's Lacrosse League, and Section II Ski League.
Scotia-Glenville has a very comprehensive interscholastic program for Tartan athletes. They may participate in any of the sports listed below.

Girls
◗ Basketball
◗ Bowling
◗ Cheerleading
◗ Cross Country
◗ Field Hockey
◗ Golf
◗ Lacrosse
◗ Skiing (Nordic)
◗ Soccer
◗ Softball
◗ Swimming
◗ Tennis
◗ Track & Field
◗ Indoor Track
◗ Volleyball
Boys
◗ Baseball
◗ Basketball
◗ Bowling
◗ Cross Country
◗ Football
◗ Golf
◗ Ice Hockey
◗ Lacrosse
◗ Skiing (Nordic)
◗ Soccer
◗ Tennis
◗ Track & Field
◗ Indoor Track
◗ Wrestling
Athletic Department Statement of Purpose
The athletic program at Scotia-Glenville fosters the belief that athletics enhances the education of every student-athlete. The program is designed to provide students with opportunities that challenge them to their individual limits.
Through athletic participation, the student athlete will develop the discipline, responsibility, sacrifice, sportsmanship and team work necessary to be successful.
The athletic program will provide opportunities for students to experience the emotions involved with athletic competition and a sense of pride in themselves, their team, their school and their community that will last a lifetime. Regardless of their win/loss records, students will act with "class" on and off the playing areas, always demonstrating the best of sportsmanship.
The Foothills Scholastic Council is comprised of these school district's teams:
◗ Amsterdam
◗ Broadalbin/Perth
◗ Glens Falls
◗ Gloversville
◗ Hudson Falls
◗ Johnstown
◗ Queensbury
◗ Schuylerville
◗ Scotia-Glenville
◗ South Glens Falls

Here are directions to the various athletic locations where Scotia-Glenville teams play.
Questions?
For any questions regarding the district's athletic or physical education programs, contact Jamian P. Rockhill, athletic director, at (518) 382-1237 or JRockhill@sgcsd.net.