In the event of inclement weather necessitating a delay in the opening of school,  I would like to share a late arrival schedule with you ahead of time.  I am hopeful this information will enable you to  plan for your family's needs.
We will continue to communicate any weather related delay or closing through our website, announcements on TV and our school notifier (email, phone or text).
The schedules detailed below will be followed by all students (virtual and in person).
Students riding a school bus to school should add 2 hours to their regular pick-up time.
Elementary Arrival 2-Hour Delay
Glendaal and Glen-Worden
Student drop off at school will be 10:50
Lincoln and Sacandaga
Student drop off at school will be 11:30
Middle School and High School 2-hour Delay Bell Schedule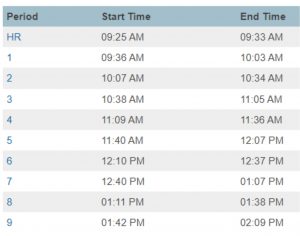 These schedules will also be posted to the Home Learning Support page https://sites.google.com/sgcsd.net/homelearning/home and on the district's website https://www.scotiaglenvilleschools.org/.
As always, decisions regarding school attendance in periods of inclement weather are made with the health and safety of your children in mind.
Thank you,
Susan Swartz