A slight breeze hid the 90+ degree weather during Scotia-Glenville's 113th commencement for the Class of 2021 at the Saratoga Performing Arts Center Monday evening.
The more than 200 S-G graduates didn't seem to mind the heat, and neither did their parents. Many waved the graduation program to create a breeze and keep cool.
Thanks to a lifting of the state COVID-19 restrictions, the ceremony was held without checking vaccination records, wearing masks or social distancing.
Before proceeding into SPAC, students gathered at the Julie Bonacio Family Pavilion before marching into SPAC with the sounds of the Scotia-Glenville Pipe Band.
Superintendent Susan Swartz recounted the difficult last 14 months during the pandemic, social distancing, masks, remote instruction and other inconveniences that didn't stop the Class of 2021.
"Class of 2021… I have watched over the last 13 years as you have struggled, failed, struggled, and then met with success.  I have watched your performance in the classroom, on the stage, in athletics, through school clubs and activities.  I have watched, from a distance, your successes and struggles during the pandemic, school closure, school reopening, and less than perfect schedule you have navigated," she said.
"I have, quite literally, watched you become the young women and men seated here today.  I am awed by your talents and accomplishments….by your grit and resilience in the face of adversity, but even more so by the people you are becoming."
View Susan Swartz's full graduation speech here.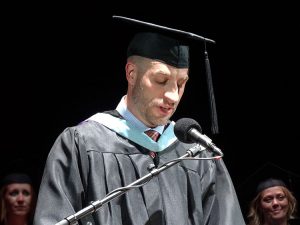 High School Principal Peter Bednarek recognized the Scholastic Honor Awards and Departmental Medal recipients. You can view those recipients here.
The Choralaires, under the direction of Jessica Crisci, performed three pieces during the ceremony.
Student speakers Emma Mathes ("Running Shoes") and Lia DiCarlo ("When Things Don't Go Swimmingly")addressed the Class of 2021.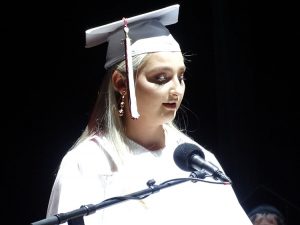 Emma told the story of Deshauna Barber, captain in the United States army reserve and Miss USA 2016, whose mother had given her a pair of shoes too big for her feet. She kept trying and failing to "fit into" the shoes but she persevered.
'Sometimes we have to pace ourselves in order to fill the shoes we are given.  So we can grow as individuals over time," she told her fellow graduates. "You never dropped out of the race when things get hard. We have all struggled during the past few years, but these challenges have helped to prepare us for the things we will face in the future.  We keep moving forward."
"In life you will meet lots of people along the way.  From every person you meet you will learn something new about yourself and the world. Stay determined with your goals and if you fail don't take it as a loss but, just like Deshauna Barber did, you will take it as a learning experience."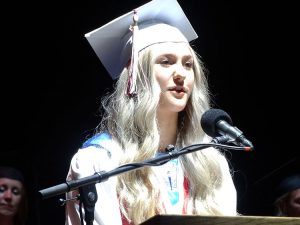 Lia told the story of her fish, Fishy, who has lived for 11 years despite some obstacles, like not being fed all the time and being forced to eat another fish companion to survive.
"Expect the unexpected. I certainly did not expect a goldfish to live for 11 years, and counting. But on a more serious note, it is every day that we are presented with new challenges, and the strength and courage to face such challenges comes from within," she said. "I am beyond proud to be among a class of students that has maintained their persistence and positivity, attacking every new obstacle head on. These trying times have put us in a position where each day we don't know what's coming our way. This has allowed us to learn to accept that there will always be unforeseeable outcomes, which we will face as we grow into adults. A constant lack of preparedness has shaped us into stronger individuals. Not knowing what our school year would look like most definitely took its toll, but with an immense amount of support among ourselves as students and from the adults surrounding us, we adapted to the circumstances so that we could all be here today."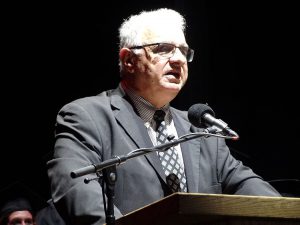 Board of Education President David Bucciferro encouraged students to "look to your left and then look to your right. They are your friends. They are Tartans. They will be there for you."
He commended students for hanging tough during a very difficult school year. "Your class has gone through a lot together," he said, encouraging them to "be that shining star…we know things are going to get better because of you."
Here are a few pictures from today's ceremony (click on the image to enlarge them). Check out many more on Facebook.